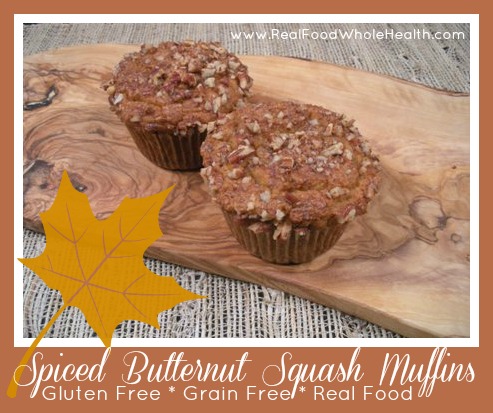 It's pumpkin and squash season, and while I adore pumpkin, butternut squash really shines in this easy muffin recipe.
Simply roast your butternut squash according to these directions.
If you are really pressed for time, you can use frozen squash (omit water) or organic canned butternut squash.
Spiced Butternut Squash Muffins
by Amy Love, Real Food Whole Health
Ingredients:
2 ½ cups blanched almond flour
½ tsp unrefined sea salt
1 tsp baking soda
1 tsp pumpkin pie spice
¼ cup organic butter, melted and cooled slightly
1 TBL pure vanilla extract
2 organic eggs
2 TBL pure maple syrup
1 ½ cups mashed roasted butternut squash, prepared and cooled slightly
¼ cup +/- water, as needed
½ cup ground pecans plus 1 TBL sucanat, for topping, optional
Directions:
Preheat oven to 350 F.
In a large, glass mixing bowl, mix almond flour, sea salt, baking soda and pumpkin pie spice.
In another glass bowl, mix butter, vanilla extract, eggs and maple syrup and squash.
Add wet ingredients to dry ingredients and mix well.
If necessary, you can add a bit (¼ cup, more or less) of filtered water to make batter a scoopable consistency.
Scoop into parchment lined muffin tins. Mix pecans and sucanat and sprinkle over batter, if desired.
Bake for 25 – 30 minutes until tops are slightly browned and a toothpick comes out clean.
Allow to cool in pan 10-15 minutes before serving.