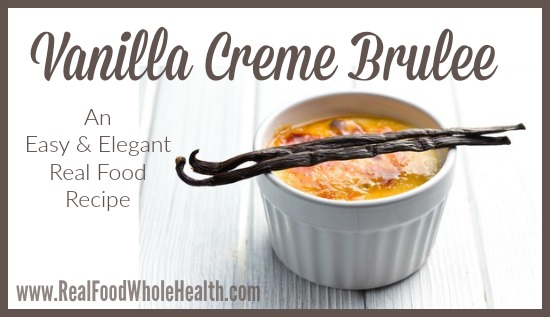 Creme brulee is one of my favorite recipes!
This simple and oh so delicious custard is the perfect end to any meal.
This real food recipe swaps the majority of sugar for maple syrup and decreases the sugar overall for a healthier treat.

Vanilla Creme Brulee
by Amy Love, Real Food Whole Health
Ingredients:
4 cups organic heavy cream
1/3 cup pure maple syrup
6 organic egg yolks
2 tsp pure vanilla extract
¼ cup organic cane sugar, for topping
Directions:
Preheat oven to 325 F.
In a small saucepan, heat cream over medium heat. Bring to a simmer, whisking frequently, and then remove from heat. Let cool slightly.
In a separate bowl, combine maple syrup, egg yolks and vanilla.
While constantly whisking egg mixture, slowly add the warm (not hot) cream.
Pour through a fine mesh strainer/sieve into a glass measuring cup, preferably with a spout.
In a shallow roasting pan, arrange six ramekins (about ½ cup each) evenly. Pour custard into the ramekins.
Pour hot, but not boiling, water into the roasting pan so it reaches halfway up the sides on the outside of the ramekins. Be careful not to get water into your custard.
Bake 40 minutes, or until the custard just barely jiggles when you shake the pan.
Remove pan from oven, and remove ramekins (carefully!) from the hot water bath and cool a few minutes before covering with plastic wrap and refrigerating.
Refrigerate at least 3 hours. Remove from fridge about a half hour before you want to serve.

To serve:
Preheat the broiler.
Arrange ramekins on a baking sheet.
If any moisture has formed on top of the custards, lightly blot with a paper towel to remove dampness.
Dividing the ¼ cup of sugar between the six ramekins (about 2 tsp each) sprinkle the sugar evenly and uniformly over the top of the custard.
When broiler is hot, place baking sheet about 4 inches from broiler and bake until the tops are caramelized and light brown. (Watch it closely!)

Notes:
You can also use vanilla sugar in place of maple syrup
Want more vanilla flavor? Add 1 vanilla bean, cut in half and seeds scraped, to cream in the first step.
Want to make ahead? Prepare and store in fridge, covered, up to 3 days
Variation: Add 1 TBL of Grand Marnier or Cointreau (orange liqueur) to egg mixture prior to mixing in cream.
Want to skip the sugar on top? No worries, just serve right from the fridge- it's delicious and even easier!
Dairy-free? Use coconut cream in place of the dairy cream.
Disclaimer: Please remember that all information contained in our podcast, posts, on our website and in any and all materials is for information purposes only and not a substitute for medical advice. This information has not evaluated by the FDA and is not intended to prevent, diagnose, treat or cure any condition. Our posts and website may contain affiliate links. If you purchase something by clicking on the link, we may receive a small commission from the retailer, at no cost to you whatsoever. This helps support our blogging activities and keeps us able to provide free content for you. Thanks for your support!