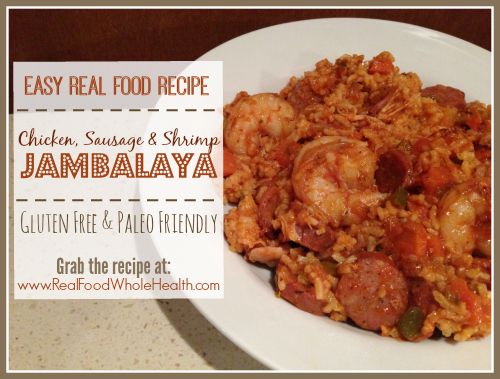 Growing up in Texas, we had many opportunities to savor the Cajun and Creole cuisines of our Louisiana neighbors.
Gumbo, boudin and jambalaya made regular appearances on our table and crawfish boils were an annual event.
Many people now use packaged jambalaya mixes or shortcuts to make this delicious and generously spiced dish. Unfortunately, those shortcuts come with unwanted chemicals, preservatives and additives that just won't cut it in this real food kitchen.
So, we've referenced traditional recipes to make our real food jambalaya that's sure to please, even if you are straight out of New Orleans.
Real Food Jambalaya
by Amy Love, Real Food Whole Health
Ingredients:
2 TBL grassfed butter
1 medium organic onion, diced
1 organic green bell pepper, diced
2 stalks organic celery, thinly sliced
3-4 cloves garlic, minced
3-4 links natural andouille sausage, cooked, sliced into ½" thick rounds
2-3 organic chicken thighs, cooked, coarsely chopped
3 TBL organic jarred tomato paste (I use this one)
1 tsp. unrefined sea salt (or to taste)
½ – 1 TBL Cajun (or Creole) seasoning (I use this one)
1-2+ cups homemade chicken broth (or this one in a pinch)
10-12 medium shrimp, cooked, tails off
2 cups rice (your choice of variety), cooked
Optional:
Extra cayenne pepper or hot sauce, to taste
Directions:
In a large skillet, melt butter.
Add onion, green bell pepper, celery and garlic and cook 3-5 minutes until onions are translucent and garlic is fragrant.
Add cooked sausage and mix well. Allow to cook until veggies and sausage are just beginning to brown.
Add cooked chicken, tomato paste, salt, Cajun seasoning and 1 cup of broth and allow to simmer 3-4 minutes for flavors to meld.
The broth will absorb some and thicken slightly. Add more broth if necessary to achieve a thick stew/sauce like consistency.
Add in cooked shrimp and rice, stir to mix well and serve.
Notes:
I like Niman Ranch or Applegate andouille sausage in lieu of local, farm-made.
Use more Cajun seasoning if you'd like, and add cayenne powder or hot sauce if you want it extra spicy
Paleo or Grain-free? Use cauliflower rice instead!
Omit sea salt if your Cajun seasoning has salt in it- and adjust to taste.