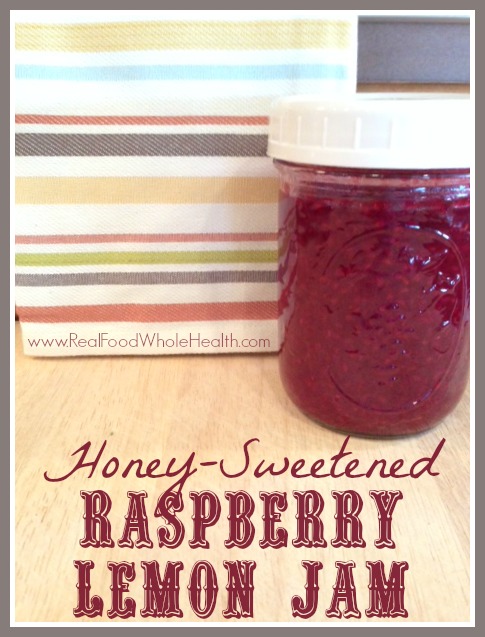 This jam is my new obsession.
Bursting with sweet-tart raspberries, bright with lemons (or Meyer lemons!) and infinitely swirlable, this easy, one pot jam is a must-taste!
Three little ingredients combine for a simple fridge jam (or sauce/syrup) that takes only 15 minutes to make.  No need for canning. That means while it's not shelf stable, it lasts well for a couple of weeks in the fridge or a few months in the freezer- but it won't have a chance to be around that long. And because you make it with frozen raspberries, you can make it year round.
Dollop on ice cream, swirl into yogurt, smear onto muffins or toast, or just eat it by the spoonful (I'm only half kidding!) with homemade nut butter and you'll be hooked, too.
Honey-Sweetened Raspberry Lemon Jam
by Amy Love, Real Food Whole Health
Makes approximately one pint
Ingredients:
About 4 cups of frozen organic raspberries
4-6 Tablespoons good quality, local honey (or to taste)
Juice and zest of 2 organic lemons (or Meyer lemons)
Directions:
Add frozen raspberries to a large saucepan over medium heat.
Stir raspberries until they begin to liquefy and fall apart.
Add honey and lemon juice, reserving zest.
Stir well and allow mixture to come to a soft boil.
Simmer for 10-15 minutes, or until jam has thickened enough to coat a spoon.
Remove from heat and stir in lemon zest.
Pour into a glass Mason jar, slowly, after it has cooled a bit and then refrigerate.
Jam will thicken a bit further after cooling, but will always remain slightly pourable.
Keep in fridge up to two weeks, or freeze for a few months.
Notes:
One of my favorite ways to serve this delightful jam is swirled into whole Greek yogurt,  topped with fresh berries (blackberries, blueberries, raspberries or strawberries) and our Crispy Glazed Walnuts. It's the perfect breakfast or afternoon snack!