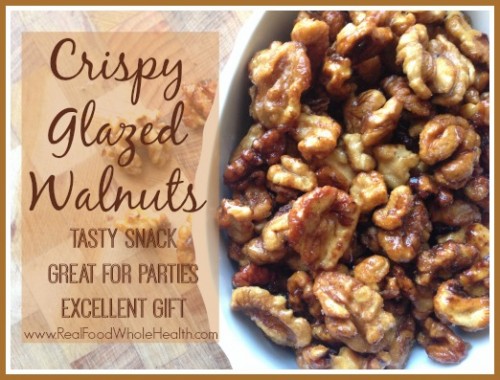 These little beauties are my favorite holiday treat…and they make GREAT gifts!
In fact, don't be surprised if this becomes your new tradition, because people will be begging you to refill the jars you gifted them.
Truth be told, these crispy little nuts make a fabulous treat year-round, but we always made them at Christmas. Growing up, I knew them as "Chinese Fried Walnuts" and they were made with double or triple the amount of sugar, fried in terrible vegetable oil and doused with refined iodized salt.
This "real-foodified" update lowers the sugar content significantly (without any real change in taste!) and uses a much healthier oil and mineral-rich sea salt for a no-guilt treat that tastes amazing and won't leave you hungover from a sugar coma.

Crispy Glazed Walnuts
by Amy Love, Real Food Whole Health
Ingredients:
1 pound (16 oz) raw walnuts, shelled
½ cup organic cane sugar (I use my vanilla sugar)
Cinnamon, nutmeg or other spices, to taste, optional
About 1 cup coconut oil
Unrefined sea salt (like Real Salt or Celtic sea salt), to taste
Directions:
Cover cookie sheets or even the countertop with parchment or waxed paper. (Do NOT use paper towels- the nuts will stick and be ruined)
In a large saucepan, boil 4 cups of water. When boiling, add the walnuts and boil for 3-4 minutes. Drain walnuts very well in a colander, but do NOT rinse.
Add drained walnuts to a glass mixing bowl and add sugar and any spices you might be using. Stir to coat the walnuts completely.
In a large pan or wok, heat your coconut oil until shimmering. Working in batches (a pound is best divided into 3-4 batches), add your sugar coated walnuts and fry for about 4-5 minutes, or until nuts are golden brown. Remove with a slotted spoon to your covered cookie sheet or countertop and spread them out (they have a tendency to stick together) and salt to your liking while they are still warm.
You can add your next batch to the hot oil and repeat until all walnuts are done, salting each finished batch as you go. After all walnuts have cooled, package together in glass jars and just try not to eat them all at once!
Note:
Get creative with your spices- try Garam Masala or Five Spice Powder for a really gourmet treat!