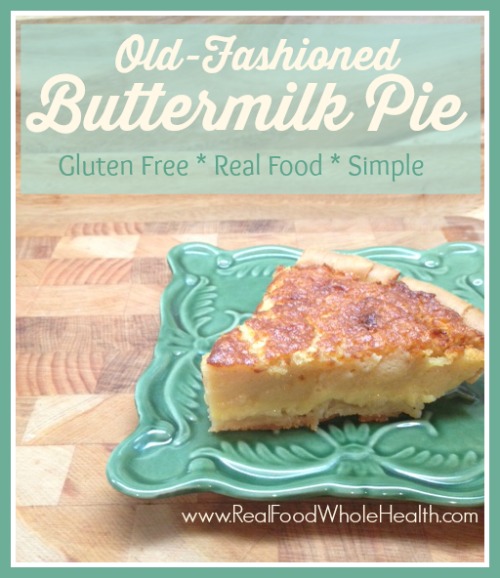 I love buttermilk pie.
Creamy, custardy, dreamy sweet and oh-so-decadent, it's Southern comfort food at it's finest.
But conventional recipes leave you feeling too full and bloated, and pack quite the punch with gluten heavy crusts, sweetened condensed milk and tons of sugar.
But, never fear! We've made over this lovely recipe with all real food, gluten free ingredients and eased up on the sugar (but you won't even notice it) to make this a treat worth making…
Old-Fashioned Buttermilk Pie- Gluten Free
by Amy Love, Real Food Whole Health
Ingredients:
1/2 cup (8 TBL) organic butter, melted
3/4 cup organic cane sugar
3 organic, pasture-raised eggs
1 TBL pure vanilla extract
1 cup organic buttermilk
3 TBL all purpose gluten-free flour (I like Trader Joe's blend)
1/8 tsp unrefined sea salt
1 gluten free pie shell, homemade or purchased, unbaked
Directions:
Preheat oven to 350 F.
Beat butter and sugar until smooth and then add eggs and vanilla.  Mix well.
Add buttermilk, gluten free flour and salt.
Pour into an unbaked gluten-free pie shell and put into oven on middle rack.
Bake at 350 F for 55-65 minutes, or until golden and a knife comes out clean when inserted into the middle of the pie.
Allow pie to cool before refrigerating until well-chilled.
Notes:
No time to make a crust? Though I typically make my own pie crust, I have used Wholly Wholesome gluten free pie crusts with excellent results.
Leftover buttermilk? Freeze the leftover in an ice cube tray and then store in a ziptop bag in the freezer. You'll have it when another recipe calls for buttermilk!