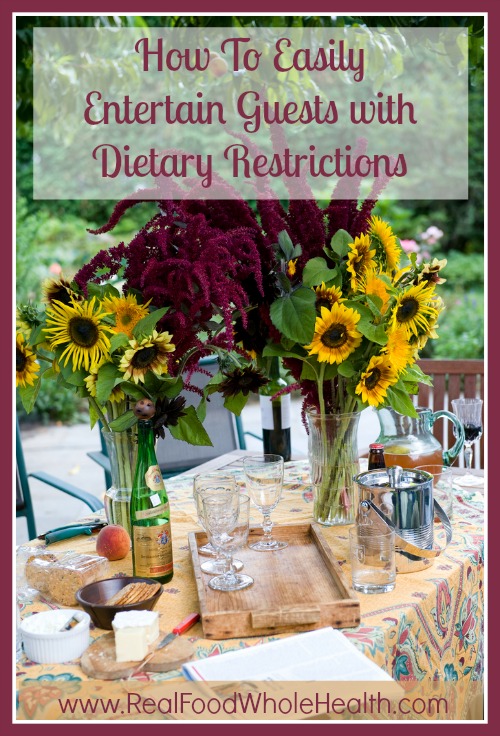 It is becoming increasingly common for individuals to have restrictions in their diet. Between food allergies, special diets (GAPS, Paleo, Gluten-Free, etc.) and individuals who are simply trying to avoid certain foods, it is rare to host a party these days without at least someone having dietary restrictions. Accommodating family and friends in your home who have these sorts of food limitations does not have to be difficult, frustrating or even complicated.
Back at the end of November, I did a Radio Interview with Kellie 
Hill on her show, 'Eat Well to Live Well' that covered this very topic. The show was called 'Entertaining Guests with Dietary Restrictions: Gluten-Free, Dairy-Free & Paleo'. Shauna Ahern from GlutenFreeGirl, Alisa Fleming from GoDairyFree and I shared our suggestions for how to host a party when some guests are on a limited diet. This post includes many of the ideas that were shared during that talk.
Those who are following restricted diets first and foremost are limiting their intake of packaged, processed foods. They are striving to eat foods as they are found in their original form, apart from the major food industry. In general, opting for food without labels. Planning a menu around these sorts of foods can be simple and truly delicious, though it might be different than what you are used to. There is no need to stress, simple changes will make a big difference. It doesn't have to be too complicated. Don't feel you need to have a separate table for your guests who are eating differently. Simply focus on real foods: those your great, great grandmother would have enjoyed eating—and you should be good for the most part.
Here are a few simple guidelines for entertaining guests with dietary restrictions:
Communicate. It is always helpful in situations when you know a guest has certain foods they are avoiding to talk to them. Rather than guessing and running the risk of getting wrong what foods they can eat, simply ask. Party hosts, don't be afraid to communicate with your guests. Ask them to bring something (if that would be appropriate) to your event, or ask them for guidance on a special recipe or dish you can make that might work for everyone.
Focus on what your guests can eat. Rather than spending time or energy going through the list of foods your guests cannot eat—focus on what they are able to enjoy. Whenever possible, choose organic foods, and for the meats: grass-fed, pasture-raised and wild-caught are preferable, with antibiotic, hormone, additive, and preservative-free being second best.
Be willing to be flexible. If you have special foods you traditionally serve at a gathering that won't work with certain guests, simply have an alternative which they can eat. Or, be willing to divide the labor between yourself and your guests by asking them to bring something to share. Perhaps this gathering will look different than those in the past, but that is part of what growing with those we love looks like: a willingness to be flexible on the little things.
Have labels. It is a common practice at larger gatherings to have labels on foods so that everyone knows what is being served without having to ask the host. Simply take this practice one step further. Label foods either with their ingredients or by their dietary qualifications. An example of this would be "Meatballs: Beef, Pork, Almond Flour, Eggs" or "Meatballs (GF, Paleo, GAPS)."
Here are a few simple changes a host can make to each course in order to accommodate guests with dietary restrictions.
Appetizers
Here are a few suggestions for easy, accommodating appetizers:
Guacamole. Guacamole is a great real food recipe. Put out some veggie dippers like red bell pepper strips, carrot sticks, zucchini or cucumber rounds along with the chips you may also serve.
Pate. Pate also works well with zucchini or cucumber rounds.
Caviar. Also wonderful with veggies.
Boiled shrimp. Always a crowd pleaser.
Smoked salmon. Also always a hit with guests.
Mustard. This makes a great accompaniment to many of the foods mentioned above and works for many people.
Asparagus wrapped in prosciutto. Elegant and delicious.
Fresh fruit platter. Simple and nourishing.
Veggie tray. Healthy and delicious.
Nuts. Opt for raw, or dry roasted nuts or set out a bowl of macadamia nuts (which works for just about any real food diet).
Platter with roast beef or roast turkey that people can slice off pieces from are a good choice.
Hosting a cocktail-party? Any of these suggestions would also work wonderfully for such an event.
Drinks
For drinks, have some sparkling mineral water and wedges of fresh lemon and lime available, or maybe even some mint. Some dieters may choose not to indulge in alcohol but would like something a little fancier than plain water. Even those who may choose to make a cocktail can use the sparkling mineral water in place of tonic (which usually contains high fructose corn syrup.)
Salad
Skip the croutons and bottled salad dressing, and opt instead for real olive oil and balsamic vinegar or even just lemon juice.
Put out some coarse sea salt and your pepper grinder and everyone can season their salad to their liking.
Plated Dinner
If you are doing a plated dinner, make the main course a meat, like grilled steak, roast beef or turkey, and have salad with olive oil and lemon juice, roasted cauliflower, or fresh green beans cooked with lots of garlic.
Dessert Table
On the dessert table, for those who aren't eating refined sugar, put out a beautiful display of clementines, mandarins, or pomegranates for your guests to enjoy as a sweet end to a great meal.
In general, for all items served for whichever meal, simply opt for food without labels. Grain foods (those with flours or even corn) should be avoided and anything too starchy like potato chips or made with beans won't work well. Just focus on meats and non-starchy vegetables and for the most part, you'll be in the clear. Simple switches can make a big difference—such as using olive oil instead of bottled salad dressing or having veggie dippers along with chips for guacamole and pate. It doesn't have to be too complicated and you don't have to have a whole separate buffet table for your guests who are eating differently. Many of the dishes (like roast beef, or shrimp) are common party foods and appeal to most everyone at the event.
Keep it simple and focus on real foods- those your great, great grandmother would recognize. Don't stress out too much and enjoy gathering with friends and family.
When You are the Guest
When you are the partygoer who is on a special diet, don't be shy about talking with your hostess about what he or she might be serving at the party. It's best to call a couple of weeks before the event and simply explain that you are dealing with some food allergies, or eating a bit differently right now, and wanted to touch base about the food. Offer to bring something if they are open to it, but if not, that's ok. Make the best choices you can at the party. If you are unsure how much there will be for you to eat at an event, eat before you go. In addition, you can keep a snack on hand in the car in case it's needed. Overall, don't stress out too much and try to simply enjoy connecting with friends and family.
For More Information
There are lots of resources available for those wishing to learn more about special dietary restrictions and foods that work with them. Here are a few of my favorites:
Google. This makes life so much easier for all of us. You can search for any recipe. Simply by typing in "Paleo appetizer" or "GAPS dessert" you get lots of responses. Or, if you are wanting to do a makeover of something you usually provide at a gathering, such as chocolate chip cookies, search for it with the word "Paleo" (or "GAPS" or "real food", etc) after it and you are guaranteed to come up with plenty of options.
Pinterest. Another great resource. Think of Pinterest as a well-organized, visual search engine. Simply go to www.pinterest.com and enter your search term, such as "Paleo appetizer" or "GAPS cookies" and you will literally SEE the recipes available.
RealFoodWholeHealth. Our site (www.realfoodwholehealth.com) has lots of recipes that work for Paleo, GAPS, gluten-free, and real food diets.
GlutenFreeGirl. Shauna Ahern from www.GlutenFreeGirl.com has lots of articles and recipes for those specifically looking for gluten-free options.
GoDairyFree.  Alisa Fleming from www.GoDairyFree.com has numerous recipes and articles for those specifically looking for dairy-free options.
Don't forget to check out the Radio Interview with Kellie Hill on 'Eat Well to Live Well': 'Entertaining Guests with Dietary Restrictions: Gluten-Free, Dairy-Free & Paleo' featuring Amy Love from RealFoodWholeHealth, Shauna Ahern from GlutenFreeGirl, and Alisa Fleming from GoDairyFree . The interview was published on November 25, 2013. To listen to the full version click here.