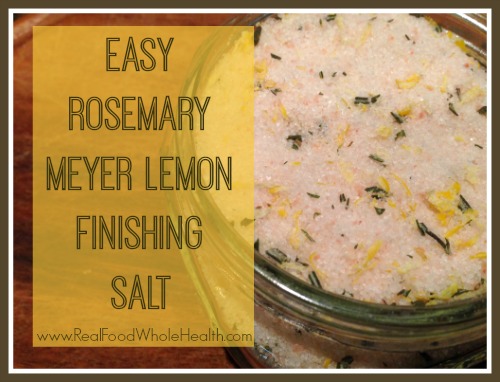 This is a wonderful DIY recipe that works great as a gift any time of the year. It is easy to make, gourmet but affordable. Use organic ingredients whenever possible for best results.

Easy Rosemary-Meyer Lemon Finishing Salt
By Amy Love, Real Food Whole Health
1 cup unrefined sea salt (like Real Salt or Celtic Sea Salt)
Zest of 3-4 Meyer lemons
4-5 sprigs of fresh rosemary, leaves removed from stem, very finely chopped
Preheat oven to 200 F. On a parchment lined cookie sheet, combine salt, lemon zest and rosemary. Stir to combine well, massaging zest and herbs into the salt grains as much as possible. Spread out in a thin layer and bake for 10-15 minutes, or until zest looks dried. Remove from oven and allow to cool slightly before crumbling the salt with clean hands, breaking up any clumps that may have formed during baking. Store in an airtight container or mason jar and use to finish dishes such as chicken, fish, vegetables and even lamb or beef roast.