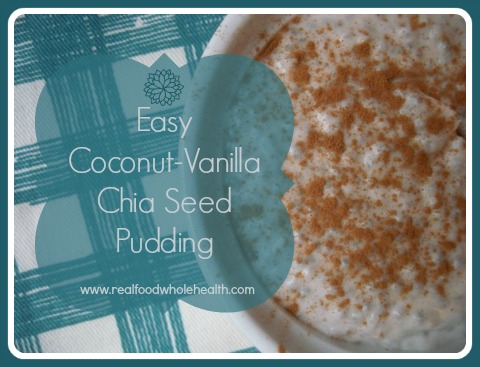 This gluten, egg and dairy free treat is a nice change from traditional pudding. It is similar in texture to tapioca pudding (though a bit smoother) with a nice coconut-vanilla flavor. Can be a snack, treat or even breakfast.
Easy Coconut-Vanilla Chia Seed Pudding
by Amy Love, Real Food Whole Health
Serves 4-6
Ingredients:
2 cans organic coconut milk (Native Forest or Natural Value brand)
or 3 cups homemade coconut milk
2+ TBL pure maple syrup
2 TBL pure vanilla extract
Two shakes of unrefined sea salt
¾ cup chia seeds
Directions:
In a blender, combine coconut milk, maple syrup, vanilla and sea salt and blend until smooth. Turn blender on very low (around 2 on a VitaMix blender) and add chia seeds, blending just until combined. Pour into a large glass bowl and quickly whisk every 10-15 minutes for an hour. You can now pour the pudding into serving dishes and enjoy, or store in Mason jars and place in the fridge. Pudding will continue to firm up in the fridge.
Notes:
You can add spices like cinnamon, nutmeg, Garam Masala or Five Spice powder– blend in before adding chia seeds.
Serve pudding with fun toppings- like nuts, dried fruit, chocolate chips, etc.
Raw honey may replace maple syrup.