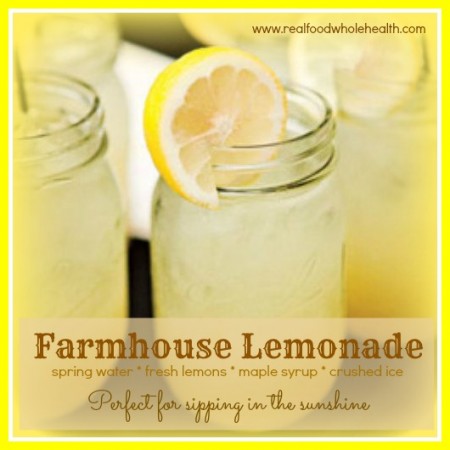 In the warmer months, as we spend time on the porch soaking in the sunshine and relishing the soft breeze, it's nice to sip on something refreshing.
This simple Farmhouse Lemonade fits the bill!
The fresh juice of bright lemons, tempered with the sweetness of maple syrup, mixed with fresh spring water over crushed ice…now that's sunshine in a glass (er, Mason jar).
Enjoy this with sparkling mineral water for a fizzy treat!
Farmhouse Lemonade
by Amy Love, Real Food Whole Health
Makes 1 quart
1 cup fresh squeezed lemon juice, about 6-8 lemons
1-2 TBL pure maple syrup
Cool spring or sparkling water
Crushed or cubed ice, if desired
Simply mix lemon juice and maple syrup in your quart sized mason jar.
Add water and ice and stir with a long handled spoon.
Taste and adjust sweetness or sourness to your liking.
Sit back, sip and enjoy!