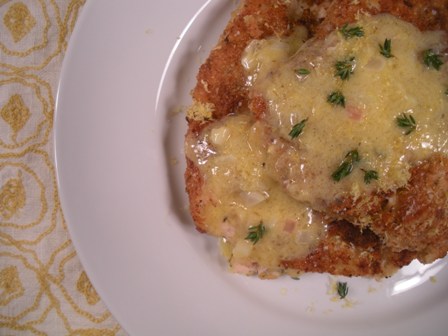 Chicken Paillard
by Amy Love, Real Food Whole Health
Ingredients:
4 pastured organic chicken breasts, boneless and skinless
1 cup sprouted brown rice flour (see notes below)
4 pasture-raised eggs, beaten
1 TBL organic raw milk (from grassfed cows) (see notes below)
2 cups almond meal (or almond flour)
¼ cup fresh grated parmesan cheese (raw milk preferred)
Unrefined sea salt & freshly ground pepper
Dried herbs of your choice
Coconut oil
Directions:
Begin by pounding out the chicken breasts gently with a mallet between 2 pieces of plastic wrap or parchment paper until evenly thin. Season with salt and pepper.
Prepare a breading station with three bowls– one with rice flour, one with whisked eggs and milk, and the third with the almond meal and parmesan cheese mixed together. Season each bowl generously with salt, pepper and herbs.
Coat the breasts in rice flour, then dip through the egg mixture, then into the almond meal/parmesan mix. Lay the coated breasts out on a flat tray (I used a parchment covered cookie sheet) and allow them to sit for about 15 minutes to dry out the crust. (You can refrigerate if you have the space)
Heat coconut oil in a large skillet over medium high heat. Shallow fry the chicken in hot oil for approximately 3 to 5 minutes per side depending on how thick the breasts are. Drain well, season with coarse salt and set aside when done. (May need to add oil or remove solids in between cooking breasts- just keep an eye on it)
Can keep finished breasts in a warm oven (about 200 degrees) for a bit to keep to temperature while prepping the rest of dinner, if desired.
Two sauce options for the paillard: (shown with lemon cream sauce in photo)
Lemon Cream Sauce
1 cup cream, organic, raw from grassfed cows
1 organic lemon, juiced and zested
2 garlic cloves, grated, pressed or minced
Fresh thyme
Unrefined sea salt and a crack of freshly ground pepper
In a medium skillet, bring cream to a simmer. Add lemon juice, garlic and thyme. Season lightly with salt and one crack of pepper. Allow cream to reduce by about half. Add lemon zest, stir and adjust salt if needed. Serve immediately.
OR
Garlic Herbed Butter Sauce
4 TBL organic butter (from grassfed cows is best)
2 garlic cloves- grated, pressed or minced
2 TBL fresh herbs of your choice- (marjoram, thyme and chives are nice)
Pinch of unrefined sea salt
Melt butter over medium heat. Add garlic cloves and simmer for just a minute. Add fresh herbs and pinch of salt. Pour over chicken paillard immediately and serve.
Enjoy!
I love this with Roman Artichokes or Arugula Salad with Lemon Dressing. Asparagus would also pair nicely!
NOTES:
Don't have rice flour? Use organic (non-GMO) cornstarch or arrowroot powder.
On GAPS? Skip the rice flour and just go right to eggs (without milk) and almond meal.
Allergic to almonds? Use coconut flour.
Out of milk?  Use coconut milk or water to thin the egg mixture.
No coconut oil? Use ghee or lard from pastured pigs (non-hydrogenated)