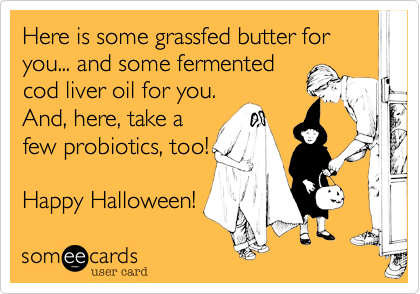 Ghosts and goblins, ballerinas and fairy princesses- Halloween is a day of fun for kids and adults alike. While the goal for many kids on Halloween is to see how much candy they can collect, what they bring home may be more trick than treat. After all, most candy is processed, fake food containing a land mine of health compromising ingredients:
Refined sugar, or worse, high fructose corn syrup– this wreaks havoc on little bodies by raising insulin levels and thus stresses the liver, pancreas and adrenal glands. Sugar also depresses the immune system, certainly not a good idea during the start of cold and flu season. High sugar intake also depletes minerals and can dehydrate the body. Mood and behavior can also be affected by high sugar intake.  HFCS is almost certainly genetically modified (GMO) but it's not currently required to be labeled, though an important ballot initiative in CA is hoping to change that.
What's better?  Though sugar consumption should be kept to a minimum, sometimes we want just a little something sweet. Natural sweeteners such as honey, pure maple syrup (the real stuff!), dehydrated cane juice and stevia (an herb) are better choices that are pretty easily accessible these days.
Artificial colors, flavors and preservatives– these artificial ingredients can be very irritating to the body, especially a young, developing body. Many parents have noticed mood, behavior and health changes due to the inclusion of these ingredients, sometimes to the extreme. Many of these ingredients are also genetically modified, or may be code names for MSG, an excitotoxin that kills brain cells. It's generally a good idea to avoid all of these unnecessary additives.
What's better? Natural flavors like organic vanilla extract, or vanilla beans, zest from lemons, limes or oranges, and many spices and herbs are definitely better for your health and taste far better than anything cooked up in a lab. Natural fruit-and-veggie based colors are available or can be made at home.
Fake and poor quality fats– While I would definitely suggest eating some high-quality fat anytime you have sugar to slow the absorption of sugar into the body, the fats in most commercial candy bars are low quality, like vegetable oils or hydrogenated fats. These types of oils/fats are highly refined, rancid, most like GMO and are extremely damaging to the body.
What's better? Real, healthy, high-quality fats– like butter (preferably organic, from grass-fed cows is best),  extra-virgin, cold pressed, unrefined coconut oil and palm oils are the fats that would be most suited to sweet treats. Extra-virgin, cold pressed olive oil and oils from walnuts, avocados and animal fats from pastured, healthy animals are other fats that should be included in the diet.
Potential allergens and other nasties– many candies contain nuts, dairy, wheat/gluten and soy- foods that for some are deadly and for others best avoided. Also, many children may have underlying sensitivities to these types of ingredients. Many candies, especially those with corn or soy in the ingredient list, contain substances that have been genetically modified (GMOs).
What's better? Since the safety of these types of foods can not be guaranteed, in the matter of allergens, and the health effects of GMOs are disastrous, my family chooses to avoid them in favor of natural, organic, unprocessed, REAL food.
So, what to do when your kids come toting this stuff into the house?
Avoid the issue altogether –  opt to focus on carving pumpkins, making apple cider and other healthy treats, doing fun crafts and activities together – all in costume of course!
Plan a visit from the "Switch Witch" (or "Candy Fairy"). Move over Tooth Fairy, there's a new act in town. This magical figure trades candy for coins or small presents or even healthy, home-baked goods!  Kids will be really excited to have a visit from her.
Visit friends or family– instead of knocking on stranger's doors, ask those you know to offer small toys or trinkets- packs of crayons, party favor-type items, small Halloween-themed jewelry all make good choices- or trusted healthy home-baked goodies in lieu of commercial treats.
If you will be participating in trick-or-treating, before you head out, it might be helpful to have a talk with your children about your expectations. Will they be allowed to eat some of the candy, preferably after a balanced meal, when the effects of sugar might be lessened by other healthy foods and fats?  How many pieces will they get? Will some be saved for the following days? Take this opportunity to talk to your children about good nutrition and why to opt for healthier choices.
What to Hand Out at Your House?
Small toys
Glow sticks
Glow bracelets
Halloween-themed jewelry (spider rings, etc)
Crayon packs
Mini pumpkins
Maple candy (dried maple syrup)
Organic candy, like Yummy Earth lollipops
Non-GMO mini chocolate bars (organic, fair-trade)
Apples or homebaked treats (list ingredients and I've seen folks include their phone number for parents)
Check out more ideas over at 100 Days of Real Food and check out this chart of GMO-Free Candy from Food Babe.
I wish everyone a happy Halloween- may you get more "treats" instead of "tricks" in your basket this year!