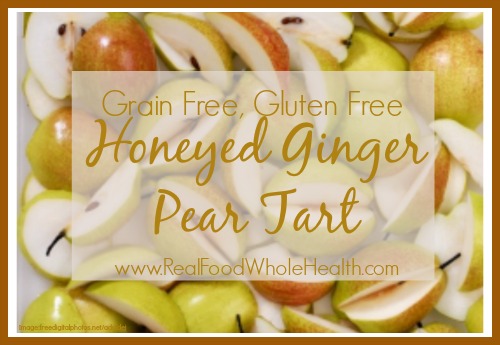 A delicious variation on our stonefruit tart:
Gluten Free Honeyed Ginger Pear Tart
by Amy Love, Real Food Whole Health

Ingredients:
2 cups blanched almond flour
3/4 cup chopped walnuts
1/2 cup sucanat or rapadura (could use honey or maple syrup– adjust quantity accordingly)
Dash of unrefined sea salt
½ tsp cinnamon
½ tsp cardamom
1 ½ sticks organic, grassfed butter, cut in cubes
1 pasture-raised egg yolk
½ tsp vanilla extract
1 tsp pure, local honey
1 tsp minced ginger
Around 5-6 pears, cored and sliced lengthwise
Directions:
Preheat the oven to 400 degrees F.
Combine the almond flour, walnuts, sucanat, salt and spices in a large food processor. Pulse to mix. Add the butter, egg yolk, vanilla, honey and ginger. Pulse to combine, scraping down sides as needed, until crumbly (not smooth).
Press about 3/4 of the crumb mixture in an even layer into the bottom of a buttered 9 1/2-inch springform or tart pan to form a crust. For a formal look, arrange the pear slices over the crust, overlapping slightly. (It helps to begin at the outside edges and work inward) For a rustic look (which I prefer) just scatter the slices somewhat evenly over the crust.
Sprinkle the rest of the crumb mixture evenly over the pear slices. Bake the tart for 25 to 40 minutes, or until it's lightly browned and the fruit juices are bubbling.
Remove from the oven and cool for 10 minutes. Remove from the pan and transfer the tart to a flat plate. Serve warm or at room temperature, on its own or topped with homemade whipped cream (made with raw grassfed cream, maple syrup and a touch of vanilla and cinnamon), crème fraiche or homemade vanilla (or spiced) ice cream.