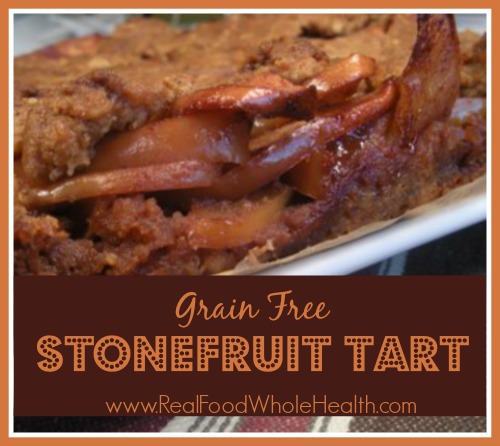 This is super easy and sooo fantastic! Most folks would never guess this was gluten-free AND grain-free- it has a satisfying bite to it, with just a hint of crunch, a gentle sweetness and it's absolutely good enough for company.
Who doesn't love a nice rustic tart?
You could really use any fruits with this, like apples or berries, but we have an abundance of stonefruit right now. You could use just one type of fruit (plum is very nice!) but I had a variety that were almost overripe and it turned out fantastic. This is a hard one to mess up, so don't fret if you aren't an experienced baker. Give this one a try- you won't be sorry!
Gluten Free Stonefruit Tart
by Amy Love, Real Food Whole Health
Ingredients:
2 cups blanched almond flour
3/4 cup chopped walnuts (soaked/dried nuts are best)
1/2 cup sucanat or rapadura (could use honey or maple syrup– adjust quantity accordingly)
Dash of unrefined sea salt, cinnamon (if desired) and/or nutmeg (if desired)
1 ½ sticks butter (from grassfed cows), cut in cubes
1 pastured egg yolk
½ tsp vanilla extract
Around 2 pounds stonefruit (nectarines, plums, peaches, etc) pitted and sliced lengthwise
Directions:
Preheat the oven to 400 degrees F.
Combine the almond flour, walnuts, sucanat, salt and optional spices in a large food processor. Pulse to mix. Add the butter, egg yolk and vanilla. Pulse to combine, scraping down sides as needed, until crumbly (not smooth).
Press about 3/4 of the crumb mixture in an even layer into the bottom of a buttered 9 1/2-inch springform or tart pan to form a crust. For a formal look, arrange the stonefruit slices over the crust, overlapping slightly. (It helps to begin at the outside edges and work inward) For a rustic look (which I prefer) just scatter the slices somewhat evenly over the crust, trying to get a good mix of the different fruits (if you are using a variety)
Sprinkle the rest of the crumb mixture evenly over the fruit slices. Bake the tart for 30 to 40 minutes, or until it's lightly browned and the fruit juices are bubbling. (Check it after about 20 minutes, as ovens vary and depending upon how deep your fruit and crumbles are on top can influence baking time)
Remove from the oven and cool for 10 minutes. Remove from the pan and transfer the tart to a flat plate.
Notes:
Serve warm or at room temperature, on its own or topped with homemade whipped cream, crème fraiche or homemade vanilla (or spiced) ice cream.  This tart is even great straight from the fridge and served for breakfast (try topping it with fresh, plain raw, grassfed milk yogurt!)
I've been experimenting with additional fillings of herbs, fruits, extracts and other flavors while using the base tart recipe. Peaches and almond extract are nice, cherries with a bit of bourbon, berries with a touch of mint or basil (esp strawberry/basil), apples with rosemary (one of the best!), stonefruit with a touch of thyme, etc.