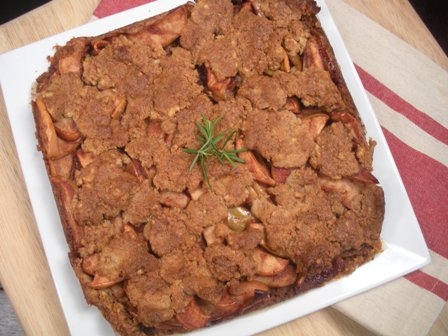 This is a delectable treat and it's a great way to use up the last of those apples. It will be one of the first recipes you want to make when apple season comes around again, as well! This is sort of a mix between a tart and a crumble. It's rustic and comforting- and perfect to serve for any occasion. Kid-friendly!
Gluten Free Apple Tart (or Apple Crumble)
by Amy Love, Real Food Whole Health
For the filling:
2 TBL organic grassfed butter
6 organic apples, any variety, cored and sliced thinly lengthwise
1 TBL pure maple syrup
1 tsp ground organic cinnamon
½ tsp ground organic nutmeg
Dash of unrefined sea salt
For the crust/topping:
2 ½ cups blanched almond flour
1 cup finely chopped crispy walnuts (that have been soaked/dried)
1/3 to 1/2 cup sucanat (dehydrated cane sugar)
¼ tsp unrefined sea salt
1 ½ tsp ground organic cinnamon
½ tsp ground organic nutmeg
12 TBL grassfed butter, cut in cubes
1 pasture-raised egg yolk
½ tsp pure vanilla extract
Directions:
Preheat the oven to 400 degrees F.
First, prepare the filling:
In a large pan over medium heat, melt 2 TBL butter and add apple slices. Stir to coat with butter. Drizzle in 1 TBL pure maple syrup, 1 tsp ground cinnamon, ½ tsp ground nutmeg and a dash of salt. Stir and allow to cook, stirring often, until slightly golden and softened a bit, about 10 minutes.
While the filling is cooking, make the crust/topping:
Combine all crust/topping ingredients in a large glass bowl and mix roughly with your hands or using a pastry cutter. You want a crumbly texture that just holds together and it mixed, but is not completely smooth. You can also pulse the mix in a food processor, but it comes together in seconds with your hands.
Press about 3/4 of the crumb mixture in an even layer into the bottom of a buttered 9 1/2-inch springform or tart pan to form a crust. Top crust with apple filling mixture, spreading in an even layer.
Sprinkle the rest of the crumb mixture evenly over the apple slices. Press down lightly to set the crumbles in place.
Bake the tart for 25 to 35 minutes, or until it's lightly browned and the filling is lightly bubbling.
Remove from the oven and cool for 10 minutes. Remove from the pan and transfer the tart to a flat plate. Serve warm or at room temperature, on its own or topped with homemade whipped cream, crème fraiche or homemade ice cream.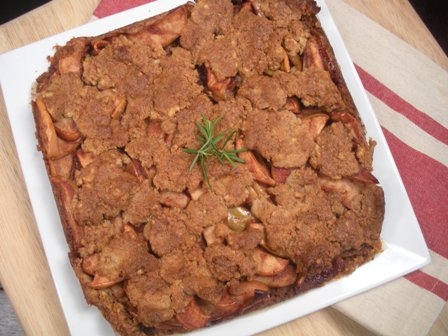 Fun variation: Finely chop the leaves of 2-3 rosemary sprigs. Add the rosemary bits to the apple filling while its cooking and then complete the rest of the recipe as written. This is an unexpected flavor combination that you simply must try. It's surprisingly delicious!