There are a lot of olive oils on the market. Flavors and quality vary widely.  It's important to know where your olive oil is from and how it is made, because some of the cheaper oils are actually cut with less expensive vegetable oils, like canola or soybean. This is a problem, not just because of taste and cooking performance, but it's a real health issue because canola and soybean (and other processed vegetable oils) are highly refined, rancid, and full of trans and damaged fats. Plus canola, soybean and cottonseed oils are almost certainly full of genetically modified ingredients, which carry heavy health and environmental consequences. So, it's important to us to source out high quality olive oils from responsible artisan producers.
Some of the best olive oils we've had the pleasure to try come from Chaffin Family Orchards based in California. The farm is family owned and operated and the land is farmed without pesticides, herbicides or chemical fertilizers. These superior olive oils are produced in a traditional manner that protects the healthy benefits of the olives.
What I love best about Chaffin's olive oils are their light, pleasing flavor. Some olive oils are overpowering and lack finesse. It's these lighter, more mild and buttery olive oils that really shine in salad dressings and homemade condiments like mayonnaise. Chaffin offers a late harvest, mid harvest and mandarin infused olive oil, (made with their very own mandarins!). All the olive oils are made from Mission olives, many grown on trees over 100 years old, that are hand harvested at just the right time, unfiltered for maximum antioxidant benefit and stored properly to prevent degradation.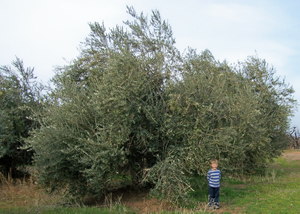 The late harvest has a rich, mild and buttery flavor that is well developed and is my favorite for making homemade mayonnaise and creamy salad dressings. The mid harvest is mild with just a bit of a bite and is great over salads, in vinaigrettes or drizzled over an entrée just before serving.  The mandarin infused olive oil is incredibly unique; there is the glorious taste of olive oil layered with an amazing citrus, floral aroma, sourced from the mandarins grown right on Chaffin's property. We made a beautiful dressing with the mandarin infused olive oil, fresh herbs from the garden, a touch of champagne vinegar and a sprinkle of coarse sea salt. It was perfect over fresh baby arugula as the citrus complemented the spiciness of the greens.
We love supporting family-owned and operated businesses like Chaffin Family Orchards. It's people like this who are changing the face of agriculture and directly influencing the quality of our foods. It's important that we vote with our dollars and choose producers and products that support and further the real food movement. If you are lucky enough to live near their farm in California, you can take advantage of these olive oils, along with a wide array of citrus and stonefruits, avocados, figs, pastured meats and other goodies. For those of us a bit farther away, we are lucky that select products- like olive oils and some citrus- are easily shipped! So, next time you are looking for olive oil, please check out the Chaffin Family Orchards line– you are sure to enjoy it!
Disclosure: cmp.ly/3