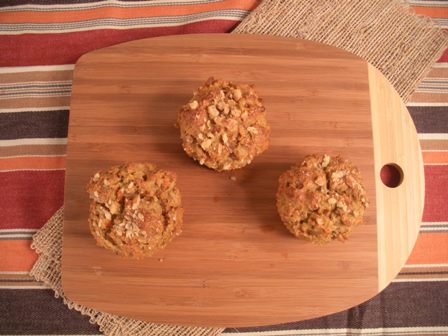 These muffins are slightly sweet, subtly spicy and very satisfying. A healthful choice, these muffins are gluten free, grain free,  and full of nourishing ingredients! A great way to start the day or just right for an afternoon snack, these muffins freeze well (great for busy mornings) and are good right from the fridge or reheated in the oven or toaster oven and served with butter, made from the milk of grass fed cows.
Gluten Free Grain Free Spiced Carrot Muffins
By Amy Love, Real Food Whole Health
Ingredients:
5 pastured eggs
4 TBL grassfed butter, ghee or coconut oil, melted and cooled slightly
¼ cup real maple syrup
3 cups grated, peeled carrots (organic preferred)
3 cups blanched almond flour
2 tsp unrefined sea salt
1 tsp baking soda
1 TBL ground cinnamon
1 tsp ground nutmeg
1 cup chopped walnuts (soaked/dried are best)
¼ cup shredded, unsweetened coconut, optional
Directions:
Preheat oven to 350 F.
In a large glass bowl, whisk eggs, butter, vanilla and maple syrup together. Add grated carrots and mix well.
In another glass bowl, combine almond flour, salt, soda, cinnamon and nutmeg. Stir to combine. Add dry ingredients to wet ingredients a bit at a time, mixing well before each addition. When combined, fold in walnuts and coconut (if using) and scoop into parchment lined muffin tins (a ¼ cup measure or ice cream scoop works well). Bake for 25-30 minutes until slightly golden and a toothpick inserted comes out clean. Allow to cool 5-10 minutes before removing from pan and serving.
Makes approx 18 muffins.
Store covered in the fridge. Great right from the fridge or warmed in the oven, freezes well- thaw slightly and reheat in the oven or toaster oven. Do NOT microwave!