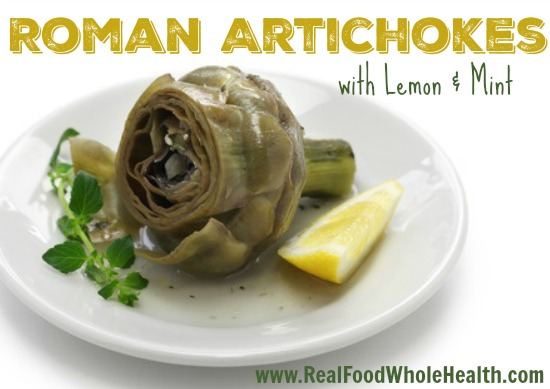 An easy and delicious side dish! Artichokes are high in antioxidants and have a positive effect on bile and strengthen the liver and gallbladder function.
Roman Artichokes
by Amy Love, Real Food Whole Health

Ingredients:
4-6 small to medium size fresh, raw artichokes
1 organic lemon, zested and halved
½- ¾  cup chopped fresh organic mint leaves
About 4 cloves organic garlic, pressed or minced
2 tsp. unrefined sea salt or to taste
1 cup good quality extra-virgin olive oil or avocado oil
2 cups white wine (or homemade chicken broth)
Freshly ground pepper
Directions:
First, you'll need clean your artichokes. To do so, trim stem with kitchen scissors to about 1" and peel the stem with a vegetable peeler. Pull off the tough green outer leaves until you get to the tender leaves that are mostly light-greenish. With a chef's knife, slice off about an inch of the top of the artichoke and cut each leaf slightly to remove spines. Spread open leaves and scoop out fibrous white choke, using a teaspoon. Rub artichokes all over with lemon to prevent discoloration. Save remaining juice and zest your lemon.
In a small glass mixing bowl, stir together mint, garlic, and salt with a splash of olive or avocado oil, a squeeze of lemon juice and a bit of lemon zest. Pack some of this mixture into the artichoke, getting in between leaves and in the center of each artichoke.
Place artichokes stem side pointing up in medium size saucepan. Pour wine (or broth) and remaining oil over the top. Bring to a boil, cover and cook over medium-low heat until tender (check for tenderness at thickest part of the stem), about 35-45 minutes. Season to taste with unrefined sea salt and freshly ground pepper.
Transfer artichokes to a platter and allow to cool completely. (They are best when served at room temperature.)
Continue to cook juices until reduced by half,  stir in a bit of butter, then serve as a sauce, drizzled over artichokes.
I love this with Chicken Paillard!