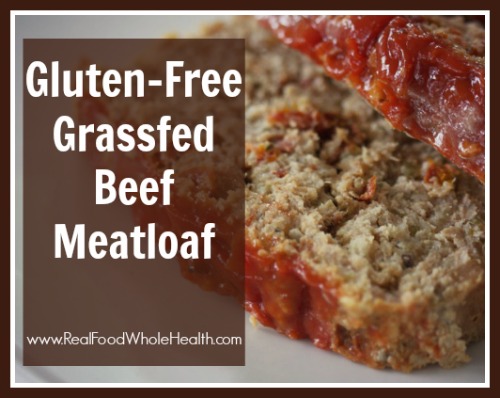 Meatloaf gets a real food makeover. Grass-fed beef, with a touch of almond meal, lovely bright orange pastured egg yolks and homemade ketchup (or at the very least, organic) and onions, celery, carrot and zucchini makes this a delicious and nutrient dense meal! Perfect with our favorite green beans.

Gluten Free, Grassfed Beef Meatloaf
by Amy Love, Real Food Whole Health
Ingredients:
For the meatloaf:
1 TBL organic butter or coconut oil
1/2 onion, diced
2 ribs celery, diced
1 large carrot, diced or grated (I prefer grated)
1/2 zucchini, diced fine or grated (I prefer grated)
2 cloves garlic, grated, pressed or minced
2 lbs grass fed ground beef (or 1 lb gf beef and 1 lb ground pastured pork)
Unrefined sea salt and freshly ground black pepper
1/2- 1 tsp dried oregano
1 pastured egg (or 2 egg yolks)
1/4 cup almond meal
1 TBL homemade ketchup or this is fine
For the glaze:
1/2 cup homemade ketchup or this is fine
Dash of tamari or fish sauce (optional)
1/2 TBL honey
Directions:
Preheat oven to 350 F.
In a medium skillet over medium heat, melt 1 TBL butter or coconut oil. Saute onions, celery, carrots, zucchini and garlic until just soft. Season with salt and pepper. Remove from heat and allow to cool slightly. (This removes some of the water from the vegetables so your meatloaf will not be watery)
In a large glass mixing bowl, mix meat with remaining meatloaf ingredients, adding cooled softened veggies and mixing well. Form into a loaf shape and place on a parchment covered cookie sheet or in a glass Pyrex dish.
Bake meatloaf for about 15 minutes while you prepare the glaze. Simply mix glaze ingredients together and spoon or brush over the meatloaf (after it's cooked around 15 minutes). Return to oven and bake about 45 minutes or until desired doneness.
Notes:
This is a perfect recipe to include organ meats in your diet. Liver (or heart) from grass-fed cows is nutritious and you won't even know it's in here. Grate some in (it's easy to grate it when frozen) when mixing the meat together with the rest of the ingredients. It will give your family a super nutritious boost AND please their taste buds at the same time.