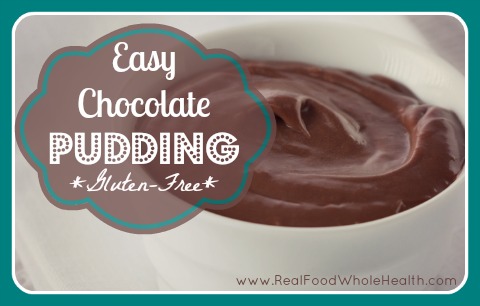 Easy Chocolate Pudding
by Amy Love, Real Food Whole Health
Ingredients
1/2 cup sucanat or other natural sugar
3 heaping tablespoons unsweetened high cocoa content cocoa powder
1/4 cup arrowroot powder (or non-GMO cornstarch or tapioca starch)
1/8 teaspoon unrefined sea salt
2 3/4 cups organic milk or cream (raw from grass fed cows preferred) or organic coconut milk
2 TBL maple syrup (Grade B preferred) (optional)
2 TBL organic butter or coconut cream or oil
1 TBL organic vanilla extract
Directions
In a medium saucepan, whisk together sucanat, cocoa powder, arrowroot and salt.
Place over medium heat, and whisk in milk or cream slowly.
Bring to a slight boil, and cook, whisking constantly, until mixture thickens enough to coat the back of a metal spoon.
Remove from heat, and stir in syrup, butter and vanilla.
Let cool briefly, and serve warm, or chill in refrigerator until serving.
Serve plain or top with homemade whipped cream, chocolate shavings, organic sprinkles, chopped crispy nuts or fresh fruit.
Notes:
Dairy Free? Use coconut milk in place of milk/cream and swirl in coconut oil or coconut cream in place of butter.