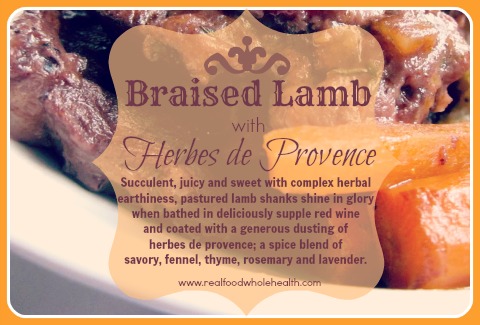 Succulent, juicy and sweet with complex herbal earthiness, pastured lamb shanks shine in glory when bathed in deliciously supple red wine and coated with a generous dusting of herbes de provence; a spice blend of savory, fennel, thyme, rosemary and lavender.
Easily prepared on the stove top or in the oven, this dish is also well-suited for the slow cooker (or Crock-Pot), which makes preparing a nourishing meal quick and simple and cleanup is a snap. Just throw the ingredients together in the morning and after 8 hours on low, the smell of a ready and waiting dinner will greet you when you walk through the door at the end of the workday.
Throw a salad together, reduce the juices for a quick pan sauce and you'll have a dish that's even elegant enough to serve to company. Simply adjust the recipe for how many you are serving. As written, this makes about 4 servings.
Braised Lamb with Herbes de Provence
by Amy Love, Real Food Whole Health
Ingredients:
Pastured Lamb (2-3 shanks or half legs (sized to fit in slow cooker), large roast, shoulder or other cut- bone-in preferred, but could be without, even cubed lamb will work, though cooking time will be reduced)
Herbes de provence spice blend
Unrefined sea salt and freshly ground black pepper
Large bunch of organic carrots, cut into 2″-3″ pieces
1 large organic onion, roughly chopped
2-3 cloves of organic garlic, peeled and smashed
1 lb of organic mixed mushrooms
1 cup red wine (or broth/stock, or water)
Dash of red wine vinegar (optional- if using bone-in lamb, vinegar will assist in making richer drippings)
Directions:
Simply season the lamb with a generous amount of unrefined sea salt and freshly ground black pepper and then coat thoroughly with herbes de provence. Place in slow cooker.
Sprinkle carrots, onions, garlic and mushrooms around the lamb.
Add a dash of red wine vinegar to the lamb and add the liquid of your choice (wine, broth or water).
Put the lid on the slow cooker and set to low for approximately 8 hours.  (or high for 2 hours and low for 4 hours)
Time may vary by cooker and depending upon size and quantity of lamb pieces.

For the Pan Sauce:
Drippings from lamb
1 TBL arrowroot powder (or organic, non-GMO cornstarch or tapioca starch)
Filtered water or a bit of red wine
1 TBL fresh thyme, leaves removed from stems
Unrefined sea salt and freshly ground black pepper
1 pat grassfed butter, optional
Remove lamb pieces from slow cooker and place on serving platter.
Remove veggies and set them around the lamb.
Reserve any bones for making stock/broth at a later date.
Carefully pour juices/drippings from the slow cooker into a medium size saucepan and set saucepan over medium heat on stovetop.
In a separate small bowl or ramekin, mix arrowroot powder with a enough filtered water or red wine to make a runny paste.
Add this mixture to the drippings in the saucepan.
Allow mixture to boil, stirring often, until it is reduced by approximately half (about 5 minutes).
Add fresh thyme and pepper.
Delay adding salt until the end as the saltiness of the sauce will concentrate as it reduces.
Swirl in butter, if using.
Taste and adjust seasonings accordingly.
Pour over lamb and veggies on platter.
Serve alongside a large, simply dressed salad and/or roasted asparagus with butter and lemon.
Notes:
On GAPS? Simply omit arrowroot in pan sauce and just reduce for a slightly thinner sauce.
Want to make your own Herbes de provence spice blend from savory, fennel, thyme, rosemary and lavender)?