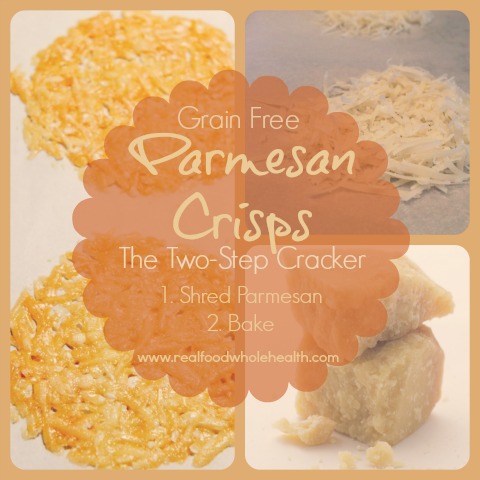 These are some of my favorite crackers. They are SO easy, delicious and go great with anything. Eat them alone, use them for dips or on top of a salad. Works perfectly as a grain-free topper for French onion soup, as well.
Parmesan Crisps
by Amy Love, Real Food Whole Health
Ingredients:
Fresh Parmesan cheese, raw milk preferred
Optional additions: Sesame seeds, poppy seeds, fresh herbs, dried herbs or seasonings

Directions:
Preheat the oven to 400 F.
Coarsely grate fresh parmesan cheese.
Mix in any optional ingredients, or just keep it plain.
Line a cookie sheet with parchment paper or top it with a Silpat (nonstick baking mat).
Make mounds of cheese (about 1/4 cup each) on the cookie sheet, flattening mounds slightly into a round shape.
Make sure to leave space between the mounds for the crisps to spread.
Bake about 5 minutes- keep an eye on it- until the crisps are golden brown.
Remove from oven and let rest about a minute to cool and harden.
Remove with a spatula and enjoy!