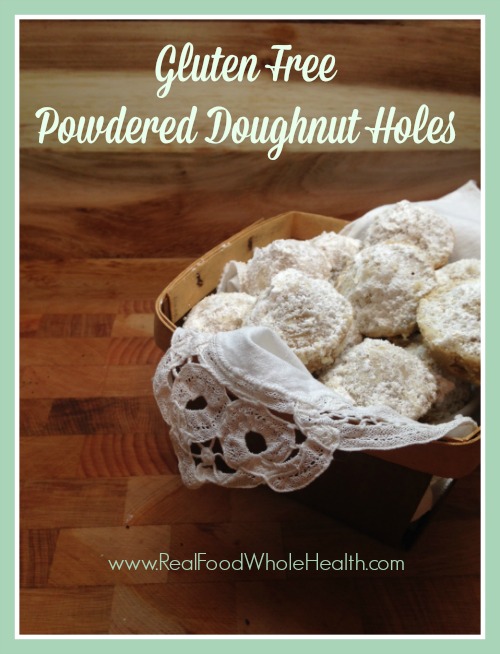 These gluten-free baked doughnut (donut) holes are sooo good! A fun, pop-them-in-your-mouth treat, these will be a new favorite at your house for sure.
Try them with a cup of hot apple cider or tea for a real delight…
Gluten Free Powdered Doughnut Holes
by Amy Love, Real Food Whole Health
Makes approximately 2 dozen doughnut holes
Ingredients:
1 ¼ cup gluten free flour blend
½ cup organic, granulated sugar
1 teaspoon aluminum-free baking powder
½ teaspoon ground cinnamon
¼ teaspoon ground nutmeg
Pinch of real, unrefined sea salt
4 Tablespoons organic butter, melted
1 organic egg
1 Tablespoon pure vanilla extract
½ cup organic milk
¾ cup organic powdered sugar, for dusting
Directions:
Preheat oven to 400 F.
In a medium sized glass mixing bowl, whisk to combine gluten free flour, granulated sugar, baking powder, cinnamon, nutmeg and salt.
In another bowl, mix melted (and slightly cooled) butter, vanilla extract and milk.
Add the wet ingredients to the dry ingredients and stir to mix well.
Generously butter a mini muffin tin to avoid sticking.
Scoop about a Tablespoon of dough into each one, filling about 2/3 full.
Bake at 400 F for about 10 minutes, or until edges are slightly browned and batter is set.
Allow to cool for about 5 minutes, and then roll doughnut holes through powdered sugar.
Serve immediately or store in an airtight container for a day or two.
Notes
Dairy-free?
Coconut oil can be used in place of butter, and coconut or other non-dairy milk can be used in place of milk.
Not gluten-free?
Standard all-purpose flour will work fine in this recipe as well.