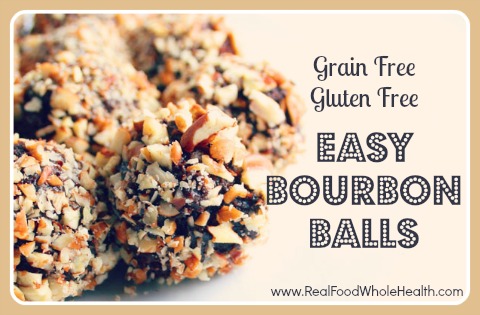 Growing up in Texas, bourbon balls were a standard holiday tradition.
Popular recipes include vanilla wafers, corn syrup and other nasty processed food ingredients, so we've been avoiding these delicious confections for many years.
However, this year we decided to recreate some family favorites, and these were at the top of the list.
This version is much more delicious than the previous processed food version, and they are gluten free (and grain free) to boot!
Bourbon Balls (or Rum Balls)- Gluten Free, Grain Free
by Amy Love, Real Food Whole Health

Ingredients:
12 TBL organic grassfed butter, cut in cubes, plus an extra pat for greasing dish
3/4 cup dark chocolate chips or chunks
3 large pasture-raised eggs
2-3 TBL maple syrup, Grade B preferred
1 tsp organic vanilla extract
3/4 tsp unrefined sea salt
3/4 cup blanched almond flour
1/3 cup high-quality bourbon (or rum for rum balls)
For rolling: 1 cup ground crispy pecans (soaked/dried) (can also use coarse or powdered sugar, toasted coconut, other nuts, cacao nibs, etc.)
Directions:
Preheat the oven to 350 F.
Butter a 9"x13" glass baking dish and set aside.
Combine butter and chocolate and melt over a double boiler (or glass bowl set atop steaming water), stirring often.
In the bowl of your electric mixer, mix the eggs, maple syrup, vanilla extract and sea salt. Slowly pour in the melted chocolate mixture. Add almond flour and mix until batter is smooth (no lumps).
Pour the batter into the prepared glass baking dish (it will make a thin layer) and bake for about 15 minutes until a toothpick comes out clean when inserted in the middle of the cake. You don't want it too underdone, or the finished product won't hold together well.
Remove from oven and allow the cake to cool partially. This is an important step- don't be tempted to rush too much.
Crumble pieces of cake into the bowl of your electric mixer and mix until pieces are small. Add the bourbon (or rum) and beat until it forms a ball and pulls away from the sides of the bowl.
Then, using a spoon or small scoop (a melon baller works well), scoop small balls out of the mixture. Roll in the ground pecans to coat. (or use coating of your choice)
Place the completed balls on a sheet pan in the refrigerator for a couple of hours to chill completely. Can store for up to 2 weeks in an airtight container, refrigerated. They are good the first day, but get even better over the next few days. Makes 12-16 balls depending upon the size you roll them. Doubles easily, just increase cooking time accordingly.
The actual amount of bourbon in each ball is fairly small, but please enjoy responsibly.