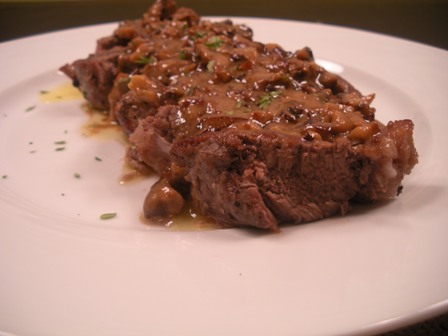 An easy and elegant meal that's perfect for a romantic evening for two!

Hanger Steak with Brandy Mushroom Sauce
by Amy Love, Real Food Whole Health
2 grassfed beef hanger steaks, about 8 oz each.
Unrefined sea salt and freshly ground pepper
Garlic powder, organic
1 TBL. Butter (organic from grassfed cows)
1 shallot, chopped fine
½ cup mushrooms, any kind, chopped
2 cloves garlic, peeled, smashed and chopped
¼ cup brandy (or bourbon)
¼ cup cream (raw from grassfed cows)
Preheat oven to 350.
Season your steaks liberally with salt, pepper and garlic powder. Heat a medium oven-safe sauté pan (not non-stick) over medium-high heat. When hot (water should skate across it) place steaks in pan to sear, about 3 minutes. When the meat no longer sticks, it's ready to flip. Flip and let other side sear about 3 minutes, then place pan, uncovered, in hot oven.  Allow steaks to cook until desired doneness, medium rare is about 8 minutes. Remove pan from oven, and remove steaks to a plate, tent with foil and return pan to stove top.
Add in butter, shallots, garlic and mushrooms. Stir to coat with butter and pan juices. Cook 4-5 minutes, then add brandy (or bourbon). It shouldn't be hot enough to flare, but use caution when pouring alcohol into a hot pan. Continue cooking about 4-5 minutes, and add cream. Continue to cook until reduced by about half, or to desired consistency. Remove from heat.
Slice steaks, arrange on a plate and top with sauce. Serve immediately.
Excellent paired with our easy creamed spinach!