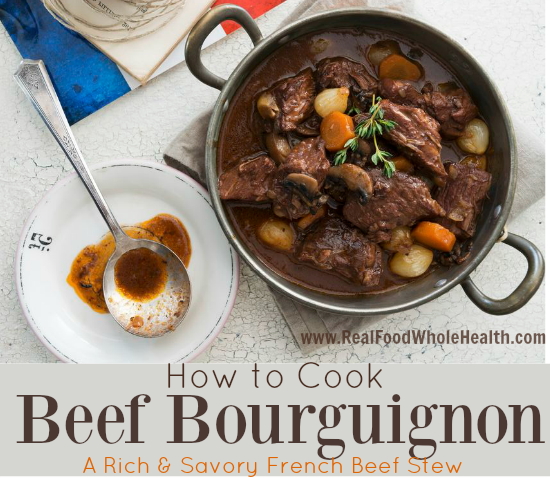 Perfect for cold nights (and days!), beef bourguignon (or French beef stew) is an incredibly savory way to warm you up! This version is gluten-free and is full of nourishing foods.
Gluten-Free Beef Bourguignon
by Amy Love, Real Food Whole Health
Ingredients:
1/2 lb uncured (nitrate-free) bacon
Coconut oil or high-quality lard (non hydrogenated from pastured pigs)
2 organic onions, diced
3-4 organic carrots, peeled, diced
2 shallots, chopped
2-4 cloves organic garlic, peeled, smashed, minced
Unrefined sea salt and freshly ground black pepper
1- 1 1/2 cups arrowroot powder (or organic, nonGMO cornstarch)
1 tsp ground nutmeg
Dash of white pepper
3 lbs cubed grass fed stew beef
1/2 cup Cognac or Bourbon
2 cups homemade beef or chicken stock
4-6 fresh organic thyme, leaves removed from stem
3 cups dry red wine
1 bay leaf
24 organic pearl onions or 3 organic onions, quartered
5 TBLS organic, grassfed butter, divided
2 TBLS sucanat (or other natural sugar)
1 lb organic mixed mushrooms
Chopped fresh organic parsley for garnish
Directions:
Cut raw bacon into small pieces. Cook in large saute pan over medium heat until browned. Remove with a slotted spoon and set aside.
Add enough coconut oil or lard to the bacon fat to make about 1/4 cup and add diced onions, carrots, shallots and garlic. Season liberally with salt and pepper. Saute until soft. Transfer veggies to a large oven proof pot or Dutch oven.
In a large dish mix arrowroot powder or cornstarch, nutmeg, sea salt and black and white pepper. Salt and pepper the beef and then toss the cubed beef in flour to coat. Add to frying pan with enough coconut oil or lard to prevent sticking. Brown well and transfer meat to the large pot with the veggies.
Use the 1/2 cup cognac or bourbon and some of the beef stock to deglaze the frying pan over high heat. Scrap all the bits of good stuff off the bottom and then pour into pot with meat and veggies.
Add remaining beef stock, wine, thyme and bay leaf. Bring to a boil. Once boiling, transfer to pot with meat and veggies, cover, and carefully place in oven and bake at 325F for 3 hours.
In the meantime, peel the pearl onions, if using (peel easier if blanched for 30 seconds or so, frozen pearl onions will already be peeled) or, if not using pearl onions, peel and quarter the large onions. Saute the pearl or quartered onions in about 3 TBLS butter with 2 TBLS of sucanat until browned. Remove to a dish, then in the same pan, melt remaining 2 TBLS butter and saute mushrooms until golden. Transfer to dish with onions.
Thirty minutes before ready to serve, add onions and mushrooms to the stew. Continue baking 30 mins.
Serve and garnish with bacon bits and chopped parsley.
Can be served on its own, with a crusty slice of real sourdough bread rubbed with garlic and olive oil or slathered with butter. Other serving suggestions are: over garlic mashed potatoes, roasted garlic potatoes, mashed sweet potatoes, mashed cauliflower or parsnips, buttered rice or buttered gluten-free noodles. (Boil them in a separate pot and then melt butter in the pan used to sauté the onions and mushrooms- toss drained noodles to coat and serve warm)
Notes:
On GAPS? Omit arrowroot powder (or cornstarch) and serve on it's own (instead of over potatoes, etc). Omit sugar when caramelizing pearl onions and just use only butter (or ghee). The stew won't be as thick, but it will still be delicious!