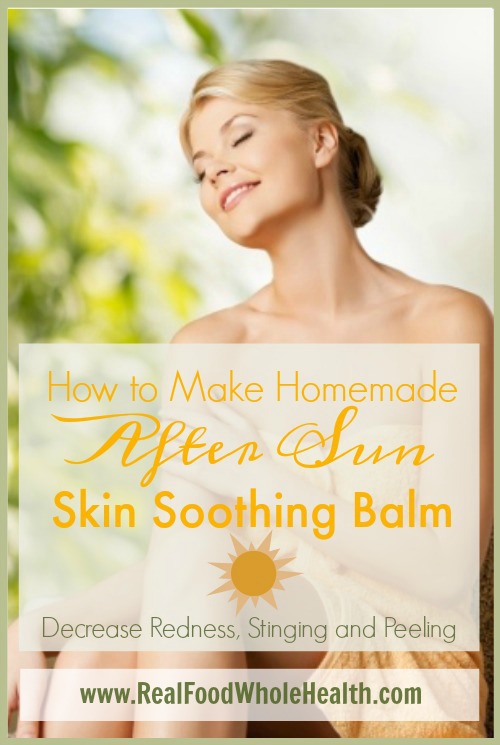 This is such a simple recipe, but it brings powerful results!
When we were snorkeling in the Dry Tortugas, we got a bit too much sun and as the night wore on, back in our hotel room, we started looking a bit lobsterish!
Luckily, I had some coconut oil and lavender essential oil in my bag and applied them.
The pain subsided almost instantly. I continued to reapply a couple of times that night and the day after. Overnight, the vast majority of the redness disappeared and we didn't peel at all. I was shocked!
This is now one of my summer go-to recipes for easy, non-toxic skin soothing after being outside in the sun- and we take great care to make sure we don't overdo the sun to begin with. There is NO substitute for smart sun exposure. But, for the times life happens, give this a go to help soothe.
After Sun Skin Soothing Balm
by Amy Love, Real Food Whole Health
Ingredients:
½ cup (4 oz.) pure coconut oil
24-48 drops pure lavender essential oil (I use this brand)
1-2 capsules Vitamin E oil (optional)
Directions:
Combine all ingredients and apply to skin.
Truly, you can make this how you'd like to. For quick application on the go (after a day at beach, perhaps) just add the essential oils to the coconut oil, add in some Vitamin E if you have it and apply to reddened areas to soothe.
If you are traveling and don't have time to measure it out or make a big batch, plan on about 6-12 drops of essential oil per ounce of coconut oil.
For use on babies and young children, dilute even further and use approximately 3 drops of essential oil per ounce of coconut oil.
With a bit more planning, you can make a creamy, whipped version to have on hand for the summer.
Simply combine all ingredients and then using an immersion blender or the whipping attachment on your stand mixer, blend until fluffy. This whipped lotion stays luxuriously spreadable and doesn't harden like coconut oil in a jar.
Save
Save
Save
Save