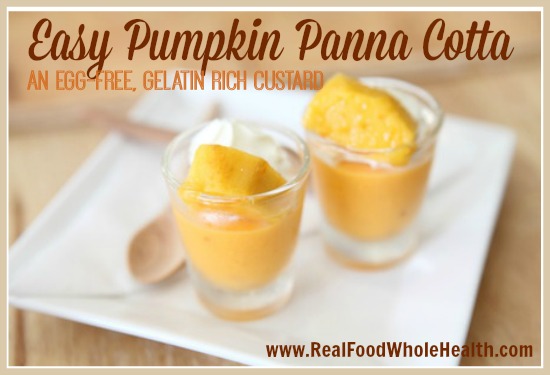 This delicious pumpkin panna cotta is a creamy, custardy treat that is perfect throughout autumn.
It can be a fun, gluten free/grain free, paleo/primal alternative to pumpkin pie.  It's even great for breakfast!
Naturally egg-free, and easy to convert to dairy-free, this is a recipe that is variable for different dietary needs.
Plus, panna cotta is a tasty way to get more healthy gelatin into your diet and it's a snap to make.
Easy Pumpkin Panna Cotta
by Amy Love, Real Food Whole Health
Ingredients:
2 TBL cup warm water
1 TBL grassfed gelatin
1 can (14 oz) organic pumpkin puree
2 cups organic heavy cream
1/3 cup pure maple syrup
2 tsp pumpkin pie spice
1 tsp pure vanilla extract
Directions:
Put the warm water in a small glass bowl. Sprinkle gelatin over the water and stir with a fork or small whisk to combine well and eliminate lumps.
Leave it to firm slightly while you make the rest of the recipe.
Combine the pumpkin, cream, maple syrup, spices and vanilla in a medium sauce pan. Over medium high heat, whisk until the mixture just comes to a simmer.
Remove from heat and whisk in the gelatin/water mixture. Whisk until smooth, or use an immersion blender for super silky texture.
Pour custard into ramekins, custard cups, small mason jars, or decorative glasses and place in the fridge for 4-6 hours to firm up before serving.
Notes:
To prevent pudding skin, you can press a small square of plastic wrap to the top of the custard (not the dish, the custard) in each dish.
Dairy-free? Substitute 1 can full fat coconut milk instead.
Out of pumpkin pie spice? Use 1 tsp of ground cinnamon and 1/2 tsp ground nutmeg instead.