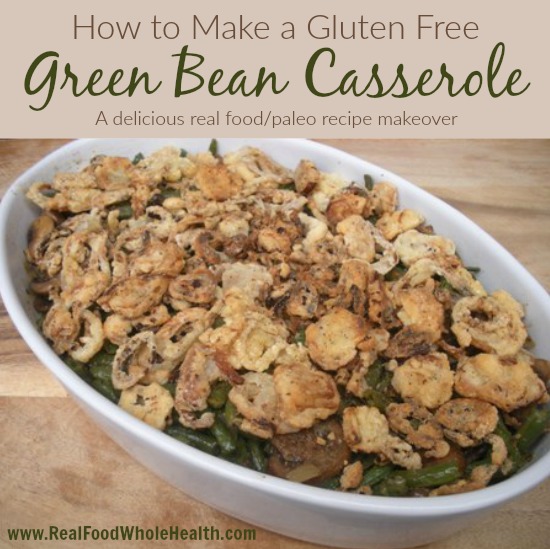 I love green bean casserole, especially at Thanksgiving. But the often made version contains chemical-laden canned cream soup and packaged fried onions which are full of unhealthy vegetable oils and preservatives. The good news is that it's so easy to make your own green bean casserole at home, from scratch.
Not only will it be healthier but it's also gluten free, paleo/primal compliant and so much more delicious!
Basically you are going to make your fried onions (I'm using shallots), blanch your green beans and make a simple cream sauce. Combine, top and bake!
Gluten Free Green Bean Casserole- Real Food, Homemade From Scratch
by Amy Love, Real Food Whole Health
Ingredients:
For fried shallot topping:
4-5 large shallots (or 2 medium onions), sliced into thin rings
¼- ½ cup arrowroot powder, for dusting shallots (see notes)
Unrefined sea salt and freshly ground pepper
Dash cayenne pepper
1/8 tsp. granulated garlic
4-6 TBL organic coconut oil, ghee or pastured lard (for frying shallots)
For casserole:
1 pound fresh or frozen green beans, ends and strings removed
2 TBL grassfed butter
1 small onion, diced
2-3 cloves garlic, minced
1 package (about 10 oz) mushrooms, chopped
1 tsp unrefined sea salt, or to taste
Freshly cracked pepper, to taste
2 TBL arrowroot powder (see notes)
1 cup homemade chicken broth or organic boxed broth
1 cup organic cream
Directions:
First, we'll prepare the fried shallots that will be both mixed into the casserole, and serve as the topping.
Put the arrowroot powder in a small glass bowl and season it with salt, pepper, cayenne and garlic to your liking. Toss the shallots (or onions) in the mixture to coat well. Heat your coconut oil in large pan over medium heat until just shimmering. Add shallots in small batches and fry 2-3 minutes until lightly golden. With a slotted spoon, transfer to a paper towel lined plate to rest.
Next, we'll make the casserole.
If using fresh green beans, trim ends and cut in half. Blanch in boiling water in a sauce pan for five minutes. Drain green beans in a colander and place in a ice water bath (combine cold water and ice cubes in a large glass bowl– submerge the beans in the colander) to stop cooking process and set aside. If using frozen green beans, simply place in a colander and run cool water over them to defrost slightly. Drain and set aside.
Melt butter in a large skillet. Add diced onions, garlic and mushrooms to pan and cook for about 5 minutes until onions are translucent and garlic is fragrant. Season with salt and pepper and stir in arrowroot powder. Cook for 30 seconds before whisking in broth and cream. Cook for 4-5 minutes until thickened.
Butter a 9"x13" casserole dish. Stir together green beans, the sauce, and about 1/3 of the crispy shallots and spoon into casserole dish. Top casserole with remainder of shallots and bake for 25-30 minutes until bubbling and browned. Allow casserole to sit for 5-10 minutes before serving.
Notes:
Organic cornstarch or tapioca starch can be subbed for arrowroot powder.