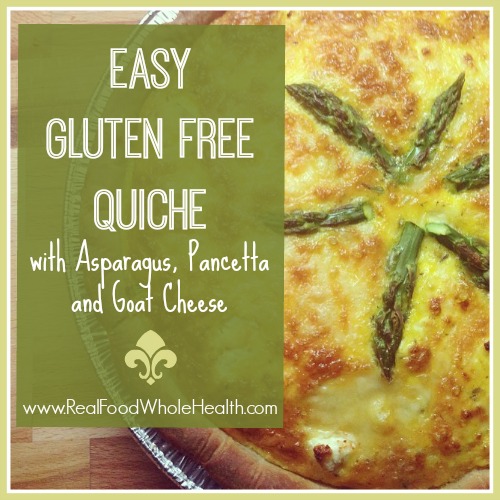 Since we're traveling, I needed an easy make-ahead breakfast that would reheat quickly in the oven come morning. Quiche fit the bill beautifully.
Instead of making my own crust, I used a Wholly Wholesome gluten free crust which, though a slight compromise food, includes ingredients I could and would use in my own kitchen (though I don't normally use xanthan gum).
Instead of baking the crust first, I have found that it has a better consistency for my quiche if baked from frozen (or just slightly thawed- as in the time it takes you to mix the fillings and fill).
Not a fan of pie crust or on a grain-free diet? Simply omit the crust and pour this into a buttered glass pie dish and you'll be golden.
You can also make your own pie crust (gluten free or not) and use this recipe- simply adjust the baking time if necessary.
Gluten Free Quiche with Asparagus, Pancetta and Goat Cheese
by Amy Love, Real Food Whole Health
Ingredients:
1 tsp organic, grassfed butter
5 thin slices good quality pancetta or bacon, diced
6 spears asparagus, stalks thinly chopped, tops reserved
4 oz organic goat cheese, crumbled
5 pasture-raised, organic eggs
1/4 cup organic cream
Unrefined sea salt and freshly ground black pepper, to taste
1/8 tsp white pepper
1/8 tsp fresh ground nutmeg
1/8 tsp granulated garlic
1/4 tsp dried thyme
1 Wholly Wholesome gluten free pie shell, frozen, optional
1/2 cup shredded organic cheese (cheddar or swiss are good options)

Directions:
Preheat oven to 375 F.
In a small saute pan, melt butter and cook pancetta or bacon and chopped stalks of asparagus (not the tops) for 3-4 minutes or until just softened. Season with salt and pepper.
Scatter pancetta and asparagus across bottom of your unbaked, frozen pie shell, if using. If you are using a buttered glass baking dish (and therefore making a crustless quiche) simply scatter these ingredients across the bottom of the dish.
Top this layer with crumbled goat cheese.
In a medium glass bowl, mix eggs, cream and spices/herbs together. Pour egg mixture on top of your other ingredients and top with grated cheese. Arrange asparagus tops in a star shaped pattern on top of egg mixture, just pressing into the liquid slightly (this will hold them in place and prevent burning).
Bake until top is slightly golden and egg mixture is well set (not jiggly), about 20-30 minutes. If you will be reheating to eat another day, you might err very slightly on the side of underbaking so that your quiche is not dry upon reheating. If using pie crust, and edges start to brown too much, simply cover with parchment paper or foil, making sure it doesn't rest upon your egg mixture (it can pull the cheese off the top if touching it).
Enjoy!