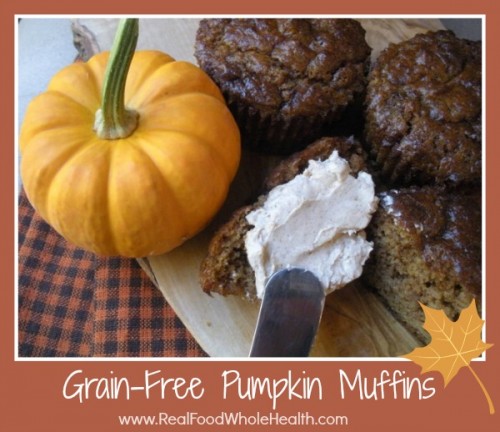 Not only are these great in the fall, but all throughout the colder months. Warming spices, nourishing pumpkin and cinnamon cream cheese-you sure won't miss the gluten or refined sugar!
Grain Free, Gluten Free Pumpkin Spice Muffins
by Amy Love, Real Food Whole Health
Ingredients:
8 TBL (1 stick) organic, grassfed butter
¾ cup sucanat or coconut sugar
4 organic, pasture-raised eggs
1 tsp vanilla extract
1 cup pumpkin puree
1 ½ cup blanched almond flour
¾ tsp baking soda
1 tsp cinnamon
½ tsp nutmeg
½ tsp unrefined sea salt
Directions:
Preheat oven to 350 F.
In a large glass bowl, or in the bowl of your stand mixer, cream butter and sucanat.
Add eggs and vanilla and mix well. Add pumpkin puree and stir mix until well combined and smooth.
In another bowl, combine almond flour, baking soda, cinnamon, nutmeg and salt. Add dry ingredients to wet ingredients and mix well.
Scoop ¼ cup of batter into each parchment lined muffin tin and bake 15-20 minutes, or until toothpick inserted into the center comes out clean.
Cinnamon Cream Cheese Spread
by Amy Love, Real Food Whole Health
8 oz organic cream cheese, softened to room temperature
1-2 TBL pure maple syrup
1+ tsp ground cinnamon
Dash of nutmeg, optional
Dash of unrefined sea salt, optional
Splash of raw milk or cream, if you desire a thinner consistency
Combine ingredients and mix well with a fork or hand mixer.
Thin to desired consistency and adjust cinnamon and maple syrup to your liking.
Notes:
Want pumpkin bread? Pour into a buttered loaf pan and bake for 45-50 minutes.
Love your muffins deeply spiced? Add 1 tsp of pumpkin pie spice in addition to the nutmeg and cinnamon in your muffin recipe.