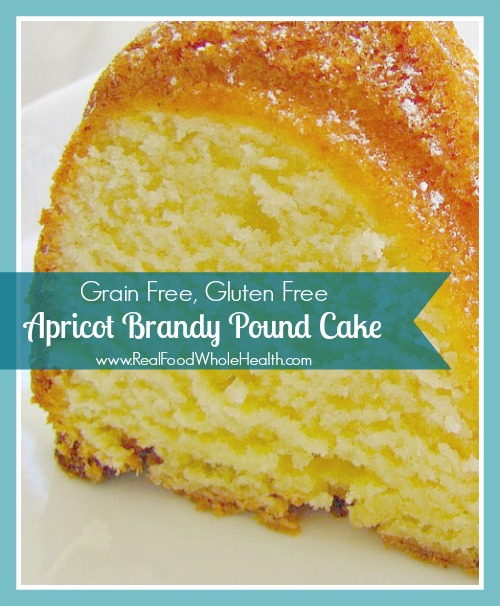 This special recipe is a family recipe that's been redone to be gluten and grain free. It's made with real food ingredients, including homemade apricot brandy!
Apricot brandy pound cake has been served every Christmas morning for as long as I can remember, and the holiday just wouldn't be the same without it. I highly recommend making this a day or two before serving- it only gets better! No icing or topping is needed, this elegant cake stands on its own.
Grain Free Apricot Brandy Pound Cake
by Amy Love, Real Food Whole Health
Ingredients:
2 sticks (16 TBL or 1 cup) organic, grassfed butter
1 cup organic cane sugar
6 organic, pasture-raised eggs
3 cups blanched almond flour
½ tsp unrefined sea salt
¼ tsp baking soda
1 cup organic sour cream or crème fraiche
½ cup homemade apricot brandy
1 tsp pure vanilla extract
¼ tsp pure almond extract
½ tsp dark rum
½ tsp lemon juice
Directions:
Preheat oven to 325 F.
Butter a tube cake pan very well. You can also flour it lightly with almond flour to prevent the finished cake from sticking.
In a stand mixer, cream butter and sugar. Add eggs one at a time, ensuring all is well mixed between additions.
In a separate bowl, mix almond flour, salt and baking soda together. This is your "dry" bowl.
In another bowl, combine sour cream, brandy, vanilla and almond extracts, rum and lemon juice. This is your "wet" bowl.
Alternate adding dry and wet ingredients to the butter/sugar/egg mixture with the mixer on low to medium speed.
Pour mixture into your prepared tube pan and smooth the top with a spatula. Bake for 60-70 minutes, or until a knife inserted into the cake comes out fairly clean.
Allow cake to cool before inverting pan and removing the cake. You may have to run a butter knife around the outside and inside edges of the pan, invert and tap evenly over the bottom of the pan to loosen.