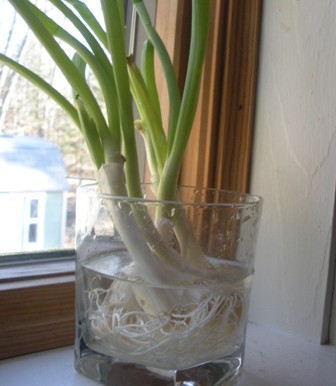 Did you know that you can cut and regrow green onions (scallions) to use over and over again? It's so easy! Talk about savings- organic green onions aren't inexpensive, so being able to double or triple your money is really awesome.
Here's how to do it:
Buy organic green onions (or scallions) from your local market or farmer.
Use the green and light green parts mostly, leaving 1-2″ of white parts and the roots alone.
Once cut, simply slip that onion into a glass of water.
Change the water daily, adding new stems of onions as you use them.
Within a few short days, your green onions will be growing tall again. Just cut and use as before, returning the white part and roots back to the glass to grow again.
Green onions will typically regenerate 2-3 times before you need to purchase new ones. Simply toss the spent stems into the compost pile and start again with the new batch!
Enjoy!
Have you tried this before? Is there anything else you grow from scraps?