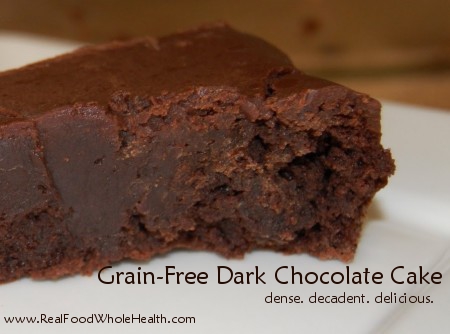 This cake is pure heaven. Dense, dark and incredibly decadent with just the right balance of bittersweet. Delightful for any occasion, we enjoyed this as a birthday cake.
Grain-Free Dark Chocolate Cake
by Amy Love, Real Food Whole Health
Cake:
12 TBL butter (preferably grass-fed)
7 oz. high quality dark chocolate, chopped (65% or higher, preferably soy-free)
4 eggs (organic, pasture-raised)
½ cup organic cane sugar
2 tsp. organic vanilla extract
1 cup blanched almond flour
¼ tsp. unrefined sea salt
Icing:
Scant ¾ cup cream (preferably organic, raw from grassfed cows)
3-4 oz. high quality dark chocolate, chopped(65% or higher, preferably soy-free)
1 tsp. organic vanilla extract
Preheat oven to 350 F.
First, we'll make the cake. In a medium saucepan, over medium heat, melt the butter. Add chopped chocolate and stir until melted. Remove from heat and allow to cool.
In a large glass bowl, beat eggs, sugar and vanilla extract. Add cooled chocolate sauce slowly, whisking constantly. Mix well.
Add the salt to the almond flour and add these dry ingredients into the wet mixture in the glass bowl. Stir to mix well and spoon into a buttered 8×8 glass dish or 9" cake pan.
Bake for 30-40 minutes, or until a knife inserted into the center comes out cleanly. Cool and then make your icing.
For the icing, simply heat the cream over low heat. Once warm, add the chopped chocolate and stir until melted and well-incoporated. Add vanilla extract and then pour over chocolate cake. (You may more icing than you wish to use, save for making homemade hot chocolate or chocolate milk!)
Cover and refrigerate until serving, allowing cake to come almost to room temperature for the best texture.
NOTES:
Add chopped nuts to the batter, or sprinkle on the icing while still warm.
Add almond extract or a dash of liqueur to the icing for additional flavor.
Use maple syrup, sucanat or coconut sugar in place of sugar. If using maple syrup, decrease amount to 1/3 cup or so, to taste.
Sweetness will vary with the type of chocolate used.