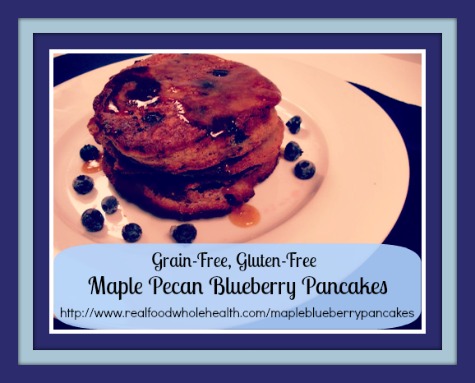 These pancakes are just perfect for a lazy Sunday morning. Serve with uncured, pastured bacon or sausage for a delicious meal!
Grain Free Maple Blueberry Pecan Pancakes
by Amy Love, Real Food Whole Health
Ingredients:
2 large pastured eggs
¼ cup pure maple syrup (Grade B preferred)
1 TBL pure vanilla extract
¼ cup raw milk or coconut milk
1 ½ cups blanched almond flour
½ tsp unrefined sea salt
½ tsp baking soda (optional)
½ cup organic blueberries (fresh or frozen)
¼ cup chopped pecans (soaked/dried are best)
Coconut oil
Butter (from grassfed cows)
Pure maple syrup
Directions:
Combine eggs, syrup, vanilla and milk of choice. Mix. In another bowl mix almond meal, salt and baking soda. Add to wet ingredients. Fold in blueberries and nuts (or you can wait and sprinkle on top of pancakes while in the pan).
Heat large pan over medium heat. Melt coconut oil and butter and swirl to melt. Add small scoop of batter (1/4 cup measure works well) and cook until bubbles break through and edges look set. (If you did not fold in blueberries and pecans, sprinkle desired amount over the pancake before flipping)
Flip carefully and cook other side until lightly browned. Top with butter and serve with pure maple syrup or whipped cream if desired.
Enjoy!
Notes:
On GAPS? Omit baking soda, use honey in place of maple syrup and opt for coconut milk instead of dairy milk.
TIP: Make a double batch and save the leftovers in the fridge or freezer (after refrigerating overnight). Reheat in an oven at 350 F for about 10 minutes.