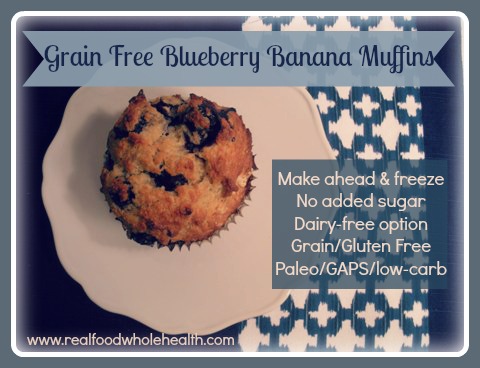 My mom inspired this recipe. She began adding blueberries to her banana bread and it was absolutely delicious! She used to bake small loaves for me, in the days before we were gluten-free.  I've modified the recipe so that we can enjoy this delicious treat once again.
Instead of being a loaf, this is adapted to be individual muffins so you can save leftovers easily (they freeze very well!) In addition to using all real food ingredients, the muffins are sweetened only with bananas (without added sugar) and are both gluten and grain free. See notes for other dietary accommodations.
Grain Free, Gluten Free Blueberry Banana Muffins
by Amy Love, Real Food Whole Health
Ingredients:
6 ripe bananas, smashed
1 TBL vanilla extract
4 pasture-raised, organic eggs
4 TBL butter, ghee or coconut oil, melted then cooled slightly
Scant ½ tsp unrefined sea salt
2 tsp baking soda (optional)
4 ½ cups blanched almond flour
2 cups blueberries, fresh or frozen
Directions:
Preheat oven to 350 F.
In a large glass bowl, mash bananas well. Add vanilla, eggs and butter (or ghee/coconut oil) and mix. In a separate bowl, mix salt, soda and almond flour. Add dry ingredients to wet a bit at a time, mixing well between additions. Fold in blueberries. Scoop into parchment lined muffin tins (1/4 cup measure or ice cream scoop works well) and bake for 25- 30 minutes, or until tops are golden and a toothpick comes out clean. Cool 5-10 minutes before serving.
Makes 24 muffins.
Store covered in the fridge. Great right from the fridge or warmed in the oven, freezes well- thaw slightly and reheat in the oven or toaster oven.
Notes:
Can't do bananas? Use applesauce instead, using a slightly smaller amount.
Dairy-free? Opt for the ghee or coconut oil in place of butter
On GAPS? Omit baking soda if hypochlorhydria is an issue for you.
Nut free? Check out this coconut flour blueberry muffin recipe.