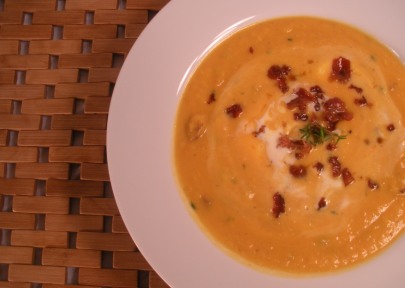 This soup is Autumn in a bowl. I was going to wait until later in the fall to post it, but our weather today has been so sublime, I just had to share. I have a butternut squash in my pantry now just waiting to be transformed into this lusciousness. The molasses is optional, but adds a nice hint of smokiness. Warming ginger rounds out the baking spices nicely and fresh thyme gives everything a little bit of an earthy, woodsy flavor. Enjoy!
Roasted Maple Butternut Squash Soup
By Amy Love, Real Food Whole Health

1 large butternut squash, local, organic if possible
Drizzle of olive or coconut oil
Organic spices- cinnamon, nutmeg or pumpkin pie spice
3-4 slices pastured, uncured bacon or pancetta, diced
1 TBL organic butter (raw, from grassfed cows, preferred)
1 shallot, local, organic if possible (or onion), diced
1 apple, any red or golden, diced
2 garlic cloves, peeled, smashed
Unrefined sea salt, freshly ground black pepper
Pinch of white pepper, organic if possible
1 tsp minced ginger, fresh or ½ tsp dried
1 bunch fresh thyme, leaves removed from stem
2-3 cups homemade chicken bone broth (amount depends upon desired consistency)
1 TBL pure maple syrup (Grade B preferred)
1 tsp blackstrap molasses (optional)
¼ raw cream from grassfed cows OR crème fraiche (or coconut cream)
Preheat oven to 400 F.
Cut butternut squash in half, removing seeds and strings. Place on rimmed baking sheet or in glass Pyrex, skin side down. Drizzle flesh with oil and season with baking spices- cinnamon and nutmeg or pumpkin pie spice to your liking. Roast for 1 hour or until soft. Remove squash from oven and scoop out pulp. Discard skins.
While squash is baking, brown bacon or pancetta in a large stockpot. Remove from pan- save for garnishing soup. Leave bacon grease in pan, removing any excess over about 2 TBL. Add butter. Add shallots (or onions) and apples and sauté until onions are translucent. Add garlic and sauté until fragrant, being careful not to burn it.
Add roasted butternut squash flesh. Season with unrefined sea salt and freshly ground black pepper, white pepper and additional cinnamon, nutmeg, (or pumpkin pie spice) and ginger. Add thyme leaves, reserving some for garnish. Add chicken broth- amount will depend upon how big your squash was (how much squash flesh you have) and the desired consistency of your soup. Start with about 2 cups, adding more if needed.
Allow to cook about 5 minutes. Using an immersion blender (or a traditional blender, working in batches) puree soup to desired consistency. Return to pot, if blender was used, adjust seasonings to taste, and add maple syrup and molasses (if using). Warm soup if it has cooled, but do not boil. Remove from heat and stir in cream or crème fraiche. Serve with additional dollop of crème fraiche, dot of maple syrup, thyme leaves and crisped bacon or pancetta.
*On GAPS? Simply use honey to sweeten this soup and stick with creme fraiche if you tolerate dairy (it's cultured) or use coconut cream (from the top of the can or what rises to the top when you make your own coconut milk) if you are dairy-free.
* No thyme? Try rosemary, sage or chives. If you fry sage leaves in a bit of butter or ghee, they will be a delightful accompaniment to this soup. (Make sure to save that butter that you fried the leaves in- it's amazing over chicken or fish, especially if it's all nice and browned)