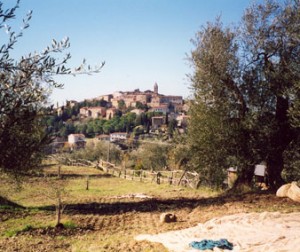 In southern Tuscany, there is a small hilltop village called Seggiano. This village shares it's name with a line of artisanal food products sourced from a variety of the best food producers and olive mills across Italy. We had the opportunity to meet David Harrison, an organic farmer and olive oil producer, while he was helping launch the Seggiano line in the states. We sampled a variety of culinary delights with him- roasted artichoke hearts, oven-roasted tomatoes, high-quality olive oil and an unbelievable raw pesto!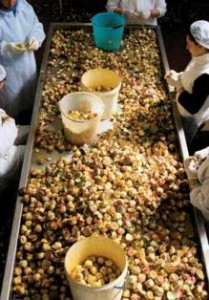 The artichoke hearts are crafted by the Angeli family, with the two brothers, their children, cousins and the in-laws all working together.  The Angelis firmly believe in healthy non-industrial food production and use only fresh local produce, including some from their own farm on Mt Amiata in southern Tuscany. Only cold-extract quality extra virgin olive oil is used, along with fresh herbs, chilis, salt and pepper. There are NO preservatives, additives or acidity regulators. Their products are all traditionally made in the time-honored artisan fashion, and the artichokes are roasted over volcanic rock (to avoid the chemicals from charcoal or gas). A far cry from the usual canned or jarred artichokes out there, these are simply divine in texture and taste.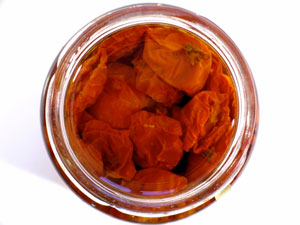 From the DeCarlo family comes organic oven-roasted tomatoes. Quite different than the usual salty, sun-dried tomatoes, these tomatoes are sweeter and much more flavorful. Small, tasty grappolato tomates, grown in the volcanic soils near Mount Etna in Sicily, these organic tomatoes get a royal treatment- after being oven dried, they are flavored with garlic, oregano and chives and then preserved in the De Carlo's own stone ground certified organic extra virgin olive oil.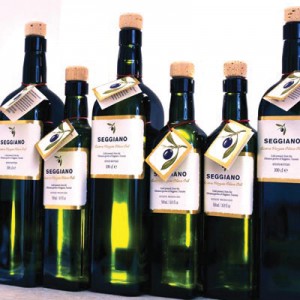 Made exclusively from olivastra seggianese olives, which are unique to the groves surrounding the village of Seggiano, this delicious olive oil is creamy and delicate, with a lasting finish, round flavor and just a touch of spiciness. Packaged with care in dark glass bottles, away from damaging light, this oil is certainly one of the top olive oils from Italy and one of our all-time favs.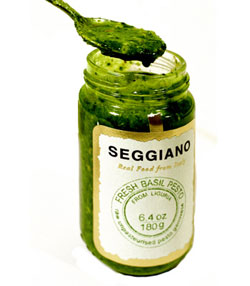 This was the crown jewel of our tasting. A RAW pesto– completely unpasteurized, containing Ligurian basil, extra virgin olive oil, cashews (in place of the usual Parmesan cheese), pine nuts, sea salt and garlic. While we do love Parmesan, this is a fantastic variety of pesto that is also safe for those with dairy allergies. It has a flavor all it's own and the cashews add an incredible depth of flavor you won't find anywhere else. The Ligurian basil is incredibly aromatic, giving this pesto it's fresh, bright flavor. The special care taken in growing and processing the basil and creating the pesto are of utmost importance.
This is how they do it: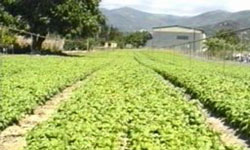 "Thanks to its particular mild climate, abundant sunshine and sea breezes, the entire region of Liguria proves to be ideal for basil farming. The year starts in May with the land being fertilized using natural fertilizer which is worked into the soil by machines.
The next stage is the mechanical disinfecting of the soil using steam. In special boilers, water is taken to the temperature at which 'dry steam' is produced. Via tubes laid on the soil and covered with special material, the land is steamed for approximately 3 hours which kills potential pests and blights, removing the necessity to use pesticides. In June the seed beds are prepared so that the soil is light and soft . The seeds are then sown in parallel rows at a width which will later permit the basil to be gathered by hand.
Daily watering is regulated by a computer. Spring water is used, which is an essential ingredient to ensure the best possible basil crop. The plants are protected from disease by the warm and breezy Ligurian climate. After 30 days, the basil is harvested carefully by hand. Only the tender top leaves of the plant are picked, those richest in the fragrant aroma and flavor which characterize our excellent pesto Genovese. The quality of basil depends very much on the region in which it is grown and we have found Genovese basil to be the finest available. Truly this is the king of herbs.
Once it is gathered, the basil is immediately taken to our nearby factory. First it is washed, using a whirlpool system of clean water which is constantly regulated taking into account the delicacy of the basil leaves. The washed and disinfected basil is then spun in a drying machine. At this stage, the flavor and appearance of the basil is still unchanged thanks to its delicate handling. The basil is then finely chopped in special mincers. Salt and oil is added, together with an additional layer of oil on the surface which guarantees natural conservation. It is then stored in refrigerated cells at a constant temperature of 2° centigrade, before mixing with other ingredients to make pesto."

We crafted a chicken, feta and pesto pizza- gluten free- using the Seggiano raw pesto. Absolutely incredible. We'll be sharing that recipe with you next week. It's easy and delicious- one that you are sure to enjoy.
It was fantastic to meet and visit with David, and we really enjoyed our small tour of Italy via Seggiano products. They have SO many more that sound absolutely divine and we can't wait to try them. Perhaps we'll just have to take a trip to Italy and check them out for you. 🙂 Seggiano products are available online via various retailers, mostly in the UK, but they are starting to make their debut in the US. Whole Foods is beginning to carry them. If your local Whole Foods or specialty shop hasn't yet discovered Seggiano, let them know about these fine foods and ask them to order some for you!