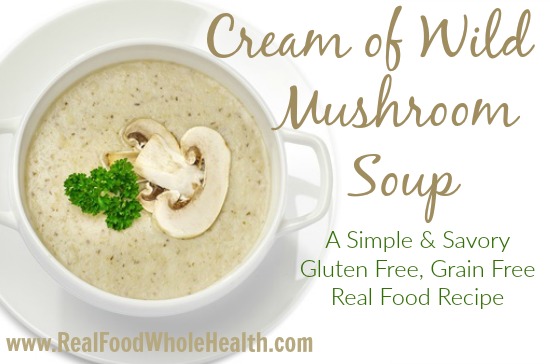 Portabella. Crimini. Oyster. Shiitake. All shine in this rich and creamy soup.
Wild, earthy and smoky mushrooms take center stage against a backdrop of  luscious raw cream and nourishing beef stock, highlighted with fresh thyme, golden onions and fragrant garlic. A dash of tamari and a splash of bourbon adds complexity and depth to this soul-warming dish.
Far from that gelatinous mess in a can that is full of toxic additives, preservatives and flat on taste, this cream of mushroom soup is chock full of nourishing fats and minerals that you will feel good about serving to your family.
Gluten Free Cream of Mushroom Soup
by Amy Love, Real Food Whole Health

Ingredients:
3 TBL organic butter (raw from grass fed cows, preferred)
1 large organic onion, diced
About 2 lbs organic mixed mushrooms (crimini, portabella, oyster, shiitake, etc- mix it up!), washed, dried, stems removed (save for making stock at a later date), roughly chopped
2-3 cloves of garlic, peeled, smashed and diced
Fresh organic thyme, about 6-7 stems
Organic, naturally fermented tamari (wheat-free soy sauce)
1 TBL bourbon (or whiskey) optional
Approx 2 TBL arrowroot powder (or organic, non-GMO corn starch or tapioca starch)
4 c. homemade beef stock/broth (chicken, vegetable or mushroom broth can be subbed- homemade is far superior)
2 c. organic cream (raw from grass-fed cows, preferred)
Unrefined sea salt and freshly ground pepper (mixed peppercorns are best, black is fine)
Fresh parsley, for garnish, optional
Directions:
In a large stockpot, melt butter over medium heat.
Add diced onions and saute until softened, about 3-4 minutes.
Add chopped mushrooms, diced garlic and approximately 3 stems of fresh thyme. Stir.
Add the tamari (soy sauce) and bourbon, if using.
Stir and saute about 10 minutes over medium low heat, covered.
Can add 2-3 TBL of stock if needed (mixture shouldn't be too dry).
When mushrooms are tender and mixture is fragrant, sprinkle the arrowroot powder over and stir to combine.
Pour in stock, stir and cook approximately 10 minutes, lid off.
Remove thyme stems, discard.
Stir in cream and continue to simmer lightly to thicken.
Add salt and pepper to taste and remaining fresh thyme leaves (removed from stems).
Serve piping hot, garnished with parsley if desired.