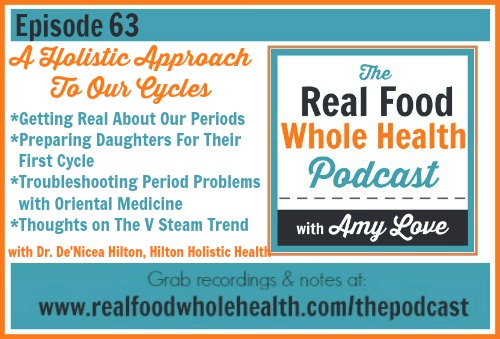 Ladies, listen up! This one's for you! In this episode, we're getting real about our monthly cycles. We're approaching periods with a holistic mindset, troubleshooting problems with Oriental medicine, chatting about preparing our daughters for their first period, talking about the v steam trend (yep, we went there with yoni steams!) and much more with Dr. De'Nicea Hilton.
[player]
From this episode:
Dr. De'Nicea's website Hilton Holistic Health
Pill Bleeds are Not Periods
Learn more about the MTHFR mutation
Soil and Mineral Depletion
Why You Should Avoid Plastics and a Primer on BPA
Natural Period Products: Lunapads, Thinx, Gladrags, Seventh Generation
The Care and Keeping Of You 1 (For Younger Girls)
The Care and Keeping of You 2 (For Older Girls)
The Boy's Body Book
Hot Water Bottle- More Natural Than a Heating Pad
Mountain Rose Herbs
Essential Oils
Indigemama
Massage for Fertility and Cycles
Grassfed Beef Liver
Yoni Steam Herbs
Sisters of Flow Podcast
Enter your email in the box below to join our community (it's FREE!) and you'll be the first to hear about new episodes, discounts, VIP access and more.
Don't forget to join the discussion on our Facebook page
Keep up with our food and travel photos on Instagram
Have a Question? Submit a question for us to answer on the podcast: click here
Check out our other podcast episodes: click here
Like this episode? Thanks! Please share it with your friends using the social media buttons at the top and bottom of the post, or directly from the "share" feature on the podcast player, above. You can also subscribe to the podcast on iTunes right from the player above, too. We'd also appreciate a (hopefully five star!) review on iTunes- it helps us spread the message about real food and natural health to more people!
Disclaimer: Please remember that all information contained in our podcast, posts, on our website and in any and all materials is for information purposes only and not a substitute for medical advice. This information has not evaluated by the FDA and is not intended to prevent, diagnose, treat or cure any condition. Our posts and website may contain affiliate links. If you purchase something by clicking on the link, we may receive a small commission from the retailer, at no cost to you whatsoever. Real Food Whole Health is a participant in the Amazon Services LLC Associates Program, an affiliate advertising program designed to provide a means for sites to earn advertising fees by advertising and linking to Amazon.com. This helps support our blogging activities and keeps us able to provide free content for you. Thanks for your support!