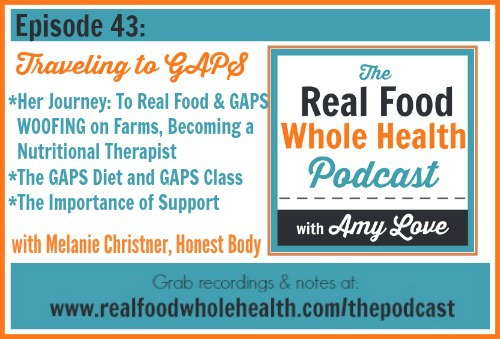 In this episode, we're talking with guest, Melanie Christner of Honest Body, a fellow nutritional therapist and GAPS practitioner, about her family's journeys- to real food, their experience WWOOFing while traveling with their four kids cross country in an Airstream trailer, to gut healing with GAPS and more. We're chatting about her online GAPS classes and share our thoughts on the importance of support while on a healing regimen.
[player]
From this episode:
Website: Melanie's website, Honest Body
Resource: Find a local CSA with Local Harvest
Resource: Learn about WWOOFing
Sightseeing: Big Bend National Park, Texas
Podcast: RFWH38: Travel Tuesdays, Our Big Yellowstone National Park Adventure, Exploring the Grand Tetons and Jackson Hole, Wyoming
Podcast: RFWH14: Travel Tuesdays, Food and Wine in Paso Robles, California, the SLO Farmers Market and Driving the PCH
Podcast: RFWH 22: Travel Tuesdays, Portland Oregon- The Food Scene, Waterfalls, Hood River and Oregon Coast from Astoria to Cannon Beach
Podcast: RFWH16: Travel Tuesdays, A Month in San Francisco, California; Muir Woods, Berkeley, Sausalito, Half Moon Bay and More
Product: Excalibur dehydrator
Product: KitchenAid Mixer
Product: Electric Handheld Mixer
Product: Vitamix Blender
Product: Instant Pot, Electronic Pressure Cooker
Product: Berkey Water Filter
Resource: 20 Dishes, Meal Planning and Prep Service
Podcast: RFWH27: Get Free From Cluttered Chaos, Nourishing Minimalism, How Clutter Affects Your Health and Wellbeing and the Journey from Chaos to Calm with Six Kids with Guest, Rachel Jones
Article: What is GAPS or the GAPS Diet (Gut and Psychology/Physiology Syndrome)
Article: How Candida Overgrowth or Hidden Parasites Could Be Affecting Your Family's Health
Book: Nourishing Traditions
Article: Video- How to Soak and Dry Nuts and Seeds
Website: Nutritional Therapy Association (NTA)
Online Class: Honest Body Academy– the GAPS Master Class and A Calm Mind, and more!
Book: GAPS: Gut and Psychology Syndrome
Article: Essential Elements Series: Element Six- Connections
Connect: Join a community of over 200,000 real foodies on our Facebook page
Enter your email in the box below to join our community (it's FREE!) and you'll be the first to hear about new episodes, discounts, VIP access and more.
Don't forget to join the discussion on our Facebook page
Keep up with our food and travel photos on Instagram
Have a Question? Submit a question for us to answer on the podcast: click here
Check out our other podcast episodes: click here
Like this episode? Thanks! Please share it with your friends using the social media buttons at the top and bottom of the post, or directly from the "share" feature on the podcast player, above. You can also subscribe to the podcast on iTunes right from the player above, too. We'd also appreciate a (hopefully five star!) review on iTunes- it helps us spread the message about real food and natural health to more people!
Disclaimer: Please remember that all information contained in our podcast, posts, on our website and in any and all materials is for information purposes only and not a substitute for medical advice. This information has not evaluated by the FDA and is not intended to prevent, diagnose, treat or cure any condition. Our posts and website may contain affiliate links. If you purchase something by clicking on the link, we may receive a small commission from the retailer, at no cost to you whatsoever. Real Food Whole Health is a participant in the Amazon Services LLC Associates Program, an affiliate advertising program designed to provide a means for sites to earn advertising fees by advertising and linking to Amazon.com. This helps support our blogging activities and keeps us able to provide free content for you. Thanks for your support!