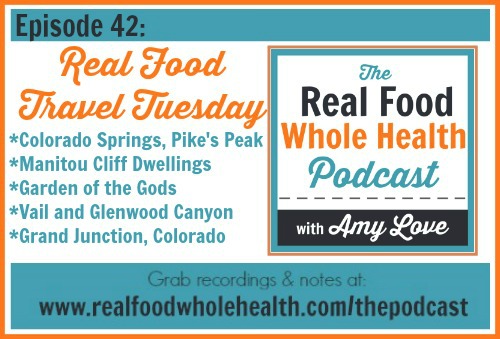 In this Travel Tuesdays episode, join us as we explore Colorado Springs, hike on awe-inspiring Pike's Peak, walk through the mysterious Anasazi Indian cliff homes at the Manitou Cliff Dwellings, marvel at rock formations at Garden of the Gods, drive through Vail and the steep and stunning Glenwood Canyon and finally end up in Grand Junction to discover the unexpectedly breathtaking Colorado National Monument park.
[player]
From this episode:
Sightseeing: Pike's Peak
Sightseeing: Manitou Cliff Dwellings
Sightseeing: Garden of the Gods
Restaurant: Hacienda Mexican
Sightseeing: Vail, Colorado
Sightseeing: Glenwood Canyom and Glenwood Springs, Colorado
Sightseeing: Clifton, Colorado
Sightseeing: Grand Junction, Colorado
Store: Natural Grocers Market
Sightseeing: Colorado National Monument
Restaurant: Bin 707 Foodbar
Enter your email in the box below to join our community (it's FREE!) and you'll be the first to hear about new episodes, discounts, VIP access and more.
Don't forget to join the discussion on our Facebook page
Keep up with our food and travel photos on Instagram
Have a Question? Submit a question for us to answer on the podcast: click here
Check out our other podcast episodes: click here
Like this episode? Thanks! Please share it with your friends using the social media buttons at the top and bottom of the post, or directly from the "share" feature on the podcast player, above. You can also subscribe to the podcast on iTunes right from the player above, too. We'd also appreciate a (hopefully five star!) review on iTunes- it helps us spread the message about real food and natural health to more people!
Disclaimer: Please remember that all information contained in our podcast, posts, on our website and in any and all materials is for information purposes only and not a substitute for medical advice. This information has not evaluated by the FDA and is not intended to prevent, diagnose, treat or cure any condition. Our posts and website may contain affiliate links. If you purchase something by clicking on the link, we may receive a small commission from the retailer, at no cost to you whatsoever. Real Food Whole Health is a participant in the Amazon Services LLC Associates Program, an affiliate advertising program designed to provide a means for sites to earn advertising fees by advertising and linking to Amazon.com. This helps support our blogging activities and keeps us able to provide free content for you. Thanks for your support!