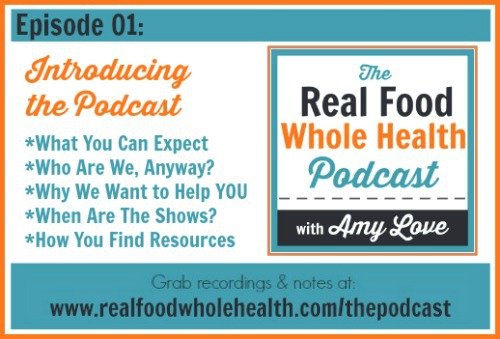 In this episode, you will learn who we are, what this podcast is all about, when to expect new shows to be released and how to find the resources (websites, books, articles, products and more) we mention on the show.
[player]
From this episode:
What is our podcast is about?
In a nutshell, we are all about sharing delicious real food and holistic health information that helps you in the real world.
Tips & tricks for healthy living- while keeping it real
Life hacks- we all need things to be easier, cheaper and faster!
Our favorite resources- books, movies, food and more
DIY info – for those who want to, um, DIY
Answering your questions- submit one here!
Our real foodie travel adventures- and where to find the best eats
Lessons learned from our organic farming experience
Interviews with leaders in the food and health community
What can you expect?
Our format is very casual and conversational. We want you to feel like you are sitting down with friends over a cup of coffee, tea or homemade bone broth, or let's be real- sometimes a big glass of wine.
We delve into food, health, living your life in a way that best serves you, all while keeping it real, practical and authentic.
Our message is for anyone at any place in the journey to health- from newbie to hardcore organic homesteader.
When are shows released?
Every Tuesday, we will focus on our real foodie travel adventures- we are currently traveling the country in a motorhome for two years- and sharing all the must see/do/eat finds along the way
Every Thursday, we will address our main topics, answer questions submitted from our community (you!) and conduct interviews with movers and shakers in the real food and natural health world.
Getting info after the show:
Find detailed show notes for each episode by clicking here– new episodes will appear on that as they are published each week.
Who am I?
I am your host, Amy Love, a nutritional therapy practitioner and my husband, Matt and I own Real Food Whole Health. This blog is our little corner of the web where we share:
Real Food Recipes (all gluten-free, most are paleo)
Natural and holistic health tips
DIY tutorials for non-toxic cleaners and personal care products
Essential oil info
How to outfit your real food kitchen
Tips for dealing with family and friends who aren't on board
How to get kids involved with real food
How to decode food labels
Transforming family favorite recipes to real food versions
Info about gut healing (candida, GAPS/AIP)
Articles on all aspects of healthy living
Our blog is also the home of our nutritional therapy practice- where work one on one with individuals and families who want to take control of their health naturally.
We also offer online classes that delve deeper into the topics of real food, holistic health, non-toxic living and gives strategies and tips on how to figure out the missing piece of your health puzzle.
How did I come to this lifestyle?
I came to nutritional therapy because of my own health challenges– I was sick for many, many years with all sorts of symptoms ranging from migraines to fibromyalgia to thyroid and adrenal issues, weight gain, infertility, chronic fatigue and eczema / other skin issues.
I suffered for years, and was practically bedridden at age 25. I spent my time going to doctor after doctor, trying all sorts of prescription medications and alternative medicine.
But none of it was working.
Then, after diving into some food allergy testing, I was led to change my diet and then my lifestyle.
Within a few months, I was able to erase most of my symptoms- and have since moved across the country numerous times, my husband and I started an organic farmstead in New England, where we had over 200 animals and we farmed for about 3 years, and now we are on the new adventure of a two year, nationwide road trip and tour.
I never, ever thought this would have been possible for me- but it was- and my passion is helping other people make the same changes in their life and hopefully shortcut the suffering I had to go through in the mean time.
How do we approach health and healing?
We believe so many people are trying to find the missing piece of their health puzzle- and are confused, overwhelmed with all the information out there, and haven't seen results by just changing their diet.
Our Health Philosophy is:
Real food is only part of the story…WHOLE HEALTH requires a balance of what we call the "Essential Six Elements of Whole Health".
As a result of our work with hundreds of clients over the past fifteen years, we developed the "Essential Elements Method" approach to wellness. These six key components are crucial to optimal health.
An imbalance or dysfunction in one or more Elements compromises overall health and the whole body suffers.
Everything in the body is connected, and it is only when all of the Essential Elements are addressed that WHOLE HEALTH can be realized.
Our podcast offers shows that delve into these elements deeper and help you take action to take control of your health- and be empowered, inspired and supported along the way.
Read more about the Essential Elements here
Enter your email in the box below to join our community (it's FREE!) and you'll be the first to hear about new episodes, discounts, VIP access and more.
Don't forget to join the discussion on our Facebook page
Keep up with our food and travel photos on Instagram
Have a Question? Submit a question for us to answer on the podcast: click here
Check out our other podcast episodes: click here
Like this episode? Thanks! Please share it with your friends using the social media buttons at the top and bottom of the post, or directly from the "share" feature on the podcast player, above.  You can also subscribe to the podcast on iTunes right from the player above, too. We'd also appreciate a (hopefully five star!) review on iTunes- it helps us spread the message about real food and natural health to more people!
Disclaimer: Please remember that all information contained in our podcast, posts, on our website and in any and all materials is for information purposes only and not a substitute for medical advice. This information has not evaluated by the FDA and is not intended to prevent, diagnose, treat or cure any condition. Our posts and website may contain affiliate links. If you purchase something by clicking on the link, we may receive a small commission from the retailer, at no cost to you whatsoever. This helps support our blogging activities and keeps us able to provide free content for you. Thanks for your support!