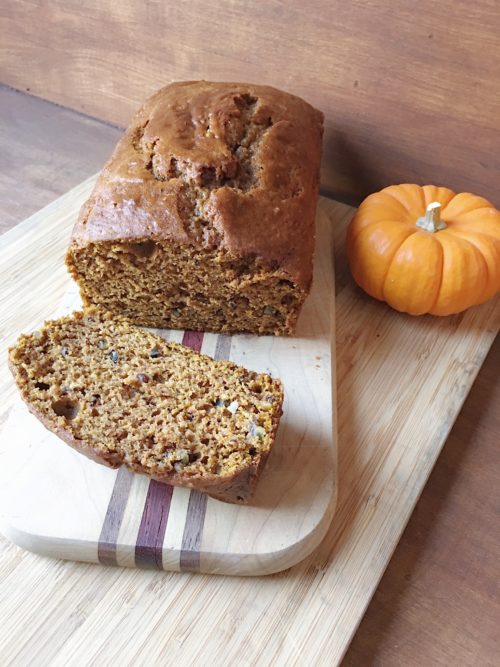 Oh my goodness, how I love autumn.
I love the cooler weather, the changing leaves, having a fire on chilly evenings, sweaters and the foods we eat during fall.
And while I'm not one to go crazy over pumpkin spice lattes (PSL to the devotees) mostly because these drinks are loaded with all kinds of things I'd rather not ingest, including astronomical amounts of sugar, I do love pumpkin spice.
I love pumpkin spice in appropriate places, that is.
Not on pizzas or in chili (this offends me as a former Texan) or whatever other bizarre concoctions have been dreamed up in the fervor of all things autumnal.
But the rich, warming, cozy spices shine in this absolutely killer recipe for pumpkin bread.
Take a few minutes and whip up this simple recipe and fill your house with the heavenly aroma of fall.
Then enjoy a nice warm slice beside the crackling fire (and maybe with this homemade real foodified pumpkin spiced chai tea latte for good measure) with a good book.
Ok, ok, I'll stop sniffing the cinnamon and nutmeg now…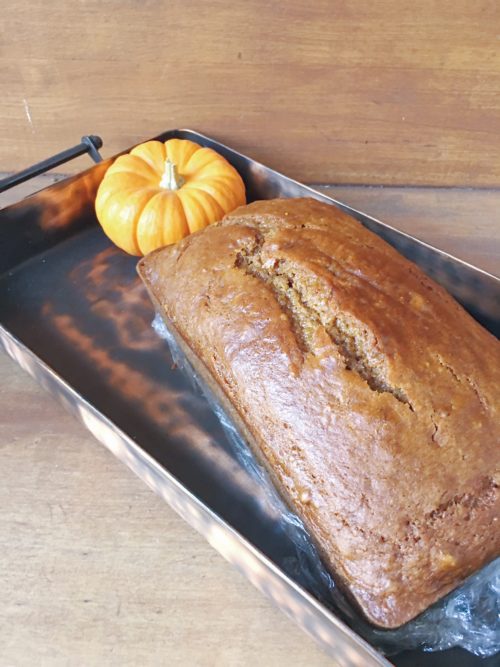 Spiced Pumpkin Bread 
by Amy Love, Real Food Whole Health
Ingredients:
5 TBS butter, softened
3/4 cup organic cane sugar
2 eggs, beaten
1 cup pumpkin puree
1 tsp. pure vanilla extract
1/3 cup water
1 2/3 cup einkorn flour
1 tsp baking soda
1/4 tsp baking powder
3/4 tsp unrefined sea salt
1 TBS pumpkin pie spice
1/3 cup chopped pecans
Directions:
Preheat oven to 350 F.
In the bowl of your electric mixer, cream butter and sugar.
Add eggs and mix well. Add pumpkin, vanilla and water.
In a separate bowl, combine einkorn flour, baking soda, baking powder, sea salt and pumpkin spice.
Add flour mixture to pumpkin mixture and mix until well combined.
Stir in pecans. Pour batter into a greased 10″x 5″ loaf pan.
Bake at 350 for 1 hour or until toothpick inserted into the center comes out clean.
Notes:
In place of butter, you can use 1/3 cup coconut oil, ghee or other healthy fat of choice.
In place of cane sugar, you can use coconut sugar or sucanat.
All-purpose or an all-purpose gluten free flour blend can be used in place of einkorn flour.