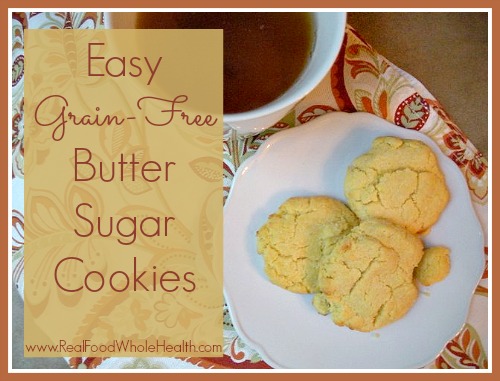 There is nothing more relaxing than sitting around the table, sharing in great conversation with friends or family while drinking a fantastic cup of tea and enjoying one or two of these buttery cookies.  Okay, maybe three.  😉
Easy Grain Free Butter Sugar Cookies
by Amy Love, Real Food Whole Health
Ingredients:
1 cup (2 sticks, 16 TBL) organic, grassfed butter
½ cup sucanat or coconut palm sugar
4 organic, pasture-raised eggs
1 tsp pure vanilla extract
½ TBL almond extract, optional
1 ½ cup fine coconut flour
½ tsp unrefined sea salt
Directions:
Preheat oven to 325 F.
In a large glass bowl, cream butter and sugar. Add eggs, vanilla extract and almond extract, if using. Combine coconut flour and salt and add to butter mixture, mixing well.
Using a tablespoon to scoop dough, roll dough into balls and place 2" apart on a parchment lined baking sheet. Push down on balls to flatten slightly to cookie shape and bake for 8-12 minutes, or until lightly golden. Cookies will crumble more readily when warm, so allow cookies to cool slightly before enjoying.
Notes:
For smoother sugar, simply pulse Sucanat or palm sugar in a food processor or coffee/spice grinder
You can also use organic, unbleached cane sugar in place of Sucanat or coconut palm sugar.
You can use 5-6 TBL of pure maple syrup OR 4-5 TBL of honey in place of Sucanat/coconut sugar