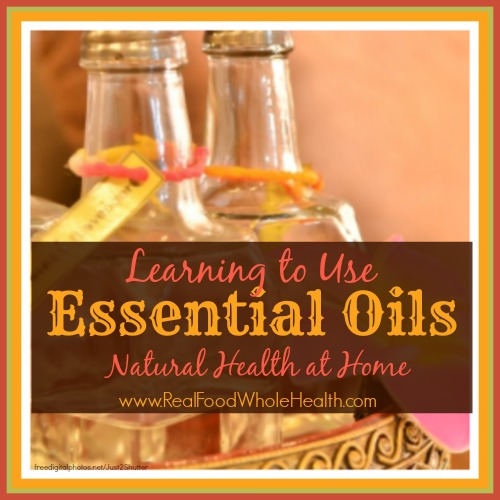 Essential oils are extremely beneficial allies in our natural health journey. They can be used to stop the itch or sting of bug bites, to ease headaches, to affect our mood and stress level, help us sleep, soothe a cranky baby and help us fight a cold.
But where to start if you are new to essential oils?
Here are over 35 resources to get you started using essential oils today!
9 Things to Stock in Your Natural Medicine Cabinet from Just Enjoy Food
Why I Use Essential Oils Almost Daily from Rethink Simple
Essential Oil Resource Page from All Things Health
All Purpose Essential Oil Spray from Mindful Mama
Sell Your Home With Essential Oils from Real Food Whole Health
Immune Boosting Oils for Winter Crud from Rooted Blessings
How to Use Essential Oils for Better Digestion from Rooted Blessings
Natural Solutions for Cleaning with Essential Oils from Untrained Housewife
Beginner's Guide to Essential Oils from Untrained Housewife
Easy DIY Bath Salts from Real Food Whole Health
10 Oils You Can Use Everyday from Rooted Blessings
How to Make Essential Oil Blends That Work from Rooted Blessings
How to Use Essential Oils to Relieve Aches and Pains from Untrained Housewife
Top 5 Essential Oils for Natural Healing from EcoMothering
Homemade, Simple Baby Wipe Solution from Ever Growing Farm
The 10 Best Essential Oils For Kids from Growing Up Herbal

Which Essential Oils Are Safe For Different Age Children from Growing Up Herbal

Blending Essential Oils For Beginners from Growing Up Herbal

Essential Oils to Use When Pregnant from Decoded Pregnancy
Aromatherapy During Pregnancy from Untrained Housewife
My Top 5 Essential Oils for Health from Real Food Outlaws
Healing Scrapes and Abrasions Naturally from Authentic Parenting
Make Your Own Cleaning Productsfrom Authentic Parenting
Natural Healing: Athlete's Foot from Authentic Parenting
Essential Oil Mixes, Part One: The Basics from Apothekayla
Homesteading Health Care from House Barn Farm
Three Simple Ways To Use Essential Oils in Pregnancy from The Provision Room
Raine's Medicine Cabinet from Nourishing Ourselves
From Learning About EO's:
Using Essential Oils Safely Cheat Sheet
Properly Diluting
Carriers
Extraction methods
Safety during pregnancy
Ingesting
Inhaling
Importance of Latin Names
Knowing Chemotypes
Menthol EOs and children
Phototoxicity
Now that you know HOW and WHY to use essential oils…you may be wondering, "What brand of essential oils do I choose?"
We personally use and recommend Young Living.  However, we've also used other wonderful essential oils from a variety of companies (doTerra, Native American Nutritionals, Vibrant Blue, etc) but my top pick is always Young Living because I've worked with their essential oils since 1995, I feel that they have extensive education and resources and I can whole heartedly recommend them based on quality and effectiveness.