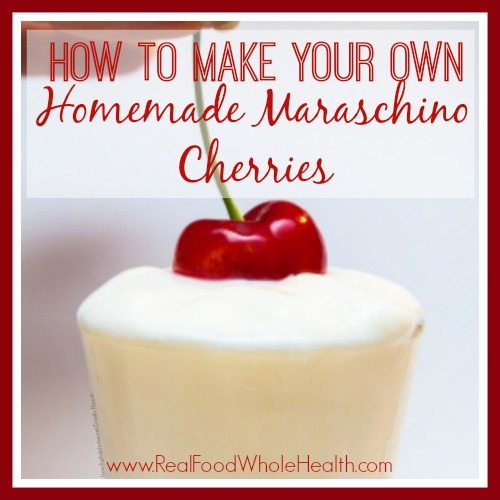 I love maraschino cherries, but I sure don't love the overly sweet, chemical laden commercial varieties that high fructose corn syrup, preservatives and artificial color- no thanks!
Luckily, it's easy (and SO much more delicious) to make your own maraschino cherries.
You can simply marinate fresh cherries with a pinch or two of sugar, a splash of water (optional) and a good amount of booze like bourbon, brandy, amaretto or the traditional maraschino liqueur, Luxardo and they'll be delightful and last quite a bit longer (thanks to the preservation properties of alcohol) but what if you don't want an alcoholic version?
Easy… here's a recipe!
Homemade Maraschino Cherries (without alcohol)
by Amy Love, Real Food Whole Health
Ingredients:
1 cup organic, unsweetened 100% tart cherry juice
1 cup filtered water
¼ cup organic unbleached cane sugar, optional
1 small cinnamon stick
1 lemon juiced (2-3 TBL)
16 oz sweet red cherries, pitted
1 TBL pure almond extract
Directions:
In a medium saucepan, combine cherry juice, water, sugar, cinnamon stick and lemon juice. Heat to a simmer, stirring until sugar has dissolved (if using). Allow mixture to simmer lightly for 3-5 minutes to meld flavors. Remove from heat and add cherries and almond extract. Allow the mixture to cool and then transfer to the refrigerator, tightly capped in a mason jar. They should last about 4-6 weeks, but I doubt they will be around that long!
Notes:
Make sure you have pitted your cherries. You can use a cherry pitter specifically for this purpose or make your own cherry pitter in about 5 minutes with a spare fork and a pair of pliers.
Feel free to add additional spices or herbs to your cherry marinating liquid…star anise, cloves, vanilla and even bay leaves have all been suggested.
Don't do sugar? No problem – just leave it out! Your cherries won't be as sweet, but they'll still be delicious!