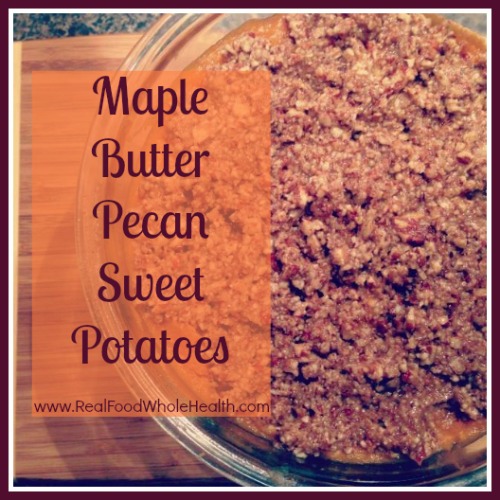 This amazing dish is a real food, gluten free makeover of sweet potato casserole- all dolled up! It's great anytime in the Fall, but really shines on the Thanksgiving table.
Maple Butter Pecan Sweet Potatoes
by Amy Love, Real Food Whole Health
For the potatoes:
4 large organic sweet potatoes, unpeeled
1 TBL pure coconut oil
2 TBL organic, grassfed butter
1 tsp ground cinnamon
1/4 tsp ground nutmeg
1 TBL pure maple syrup
Dash of unrefined sea salt
For the topping:
2 TBL organic grassfed butter
1 cup pecan pieces
1 TBL pure maple syrup
Dash of ground cinnamon
1 TBL sucanat or coconut palm sugar (optional)
Preheat oven to 350.
Poke holes in sweet potatoes with a fork, and coat them with coconut oil. Wrap in parchment paper (or foil) and bake until soft, about 50-60 minutes. Allow to cool before removing skin/scraping out flesh of sweet potatoes. Put the sweet potatoes in a large bowl and add butter, spices, maple syrup and salt. Smash to desired consistency, taste and adjust seasonings as necessary. Scoop into a buttered, oven safe glass dish, smoothing the top.
In a food processor, add topping ingredients and pulse until well mixed and the texture of wet sand. Scoop out onto the sweet potato mixture and use your fingers to flatten the topping slightly.
Bake at 350 until bubbly and the top is slightly browned and caramelized- about 25-30 minutes. You can also make this a day before, and bake fresh on the day you plan to serve it.