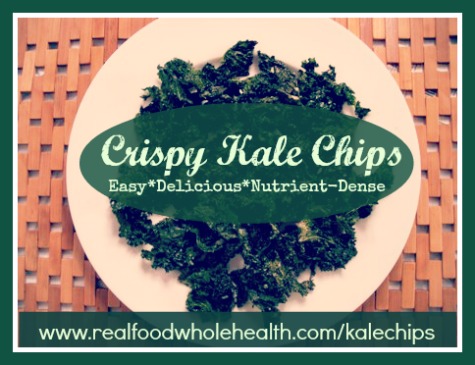 Ok, sometimes when I recommend kale chips as a snack to my clients, they say "WHAT kind of chips?? That sounds gross!" Well, I love kale, but even for those who aren't its biggest fan, these chips are a hit. Kids love them, too! Let them help with the preparation and they will enjoy eating "their creation" even more.
Kale chips are a great potato chip substitute and really don't taste like greens- plus you get all the nutritional benefit! Kale is a superfood- jam-packed with vitamins and minerals- all which can be absorbed better when the kale is cooked (instead of raw) and coated with healthy fats.
Remember, we NEED fats in order to absorb vitamins and minerals from our food- so butter your veggies, put healthy oils on your salad and use lots of good fat for your kale chips! Also, choosing organic kale is certainly important, as pesticide residues found on kale tend to be fairly high.
This recipe can be adjusted based on how much kale you have on hand and how many you are serving. I easily eat a bunch by myself…you'll go through more than you think (they are that good!) These don't store well, however, as they lose their crispness, so just make what you'll want to serve immediately.
Amy's Kale Chips
by Amy Love, Real Food Whole Health
1-2 bunches of organic kale -your choice-curly, red, or lacinato (also called dinosaur), washed, stems removed, torn into bite-sized pieces
Pastured lard non-hydrogenated from foraged/pastured pigs (can use bacon fat- organic, no nitrates/ites, tallow from grassfed cows or coconut oil)
Unrefined sea salt
Raw milk parmesan, ground finely
Optional: Other spices as desired- like organic garlic powder, cayenne, cumin, etc.
Directions:
Preheat oven to 350F.
Line a baking sheet or two with parchment paper.
Remove the stems from the kale and tear into bite-sized pieces. Grab a spoonful of lard and rub it between your palms to warm it up. Massage the lard onto the kale pieces, making sure to squeeze the kale in your hands until it softens slightly.  Spread kale pieces on the baking sheet making sure not to layer or crowd the pieces (or it will be soggy). Use another baking sheet if you need to.
Sprinkle kale pieces with salt, parmesan and any other spices you might be using. Don't overdo it- you can adjust spices when they come out of the oven. Flavors tend to concentrate as the kale shrinks and you don't want it too salty.
Bake for 10-15 minutes, or until desired crispness. I usually stir them a couple times and sometimes it takes a bit longer- closer to 20 minutes- for them to get crisp and airy.
When you remove them from the oven, taste and adjust seasonings. A little more parmesan sprinkled on never hurt anyone's feelings…. enjoy- and remember, these don't keep well, so enjoy them now!