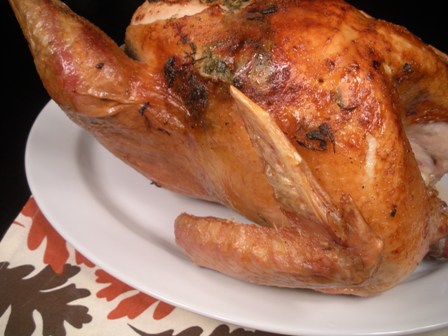 This is a simple and delicious recipe that really allows the flavor of the turkey to shine. It's about as traditional as you can get! We made a 14 pound turkey, but just adjust the ingredients and cooking time as needed.
Roasted Thanksgiving Turkey with Herbed Butter
by Amy Love, Real Food Whole Health
Ingredients:
12 TBL organic grassfed butter, softened at room temperature
4-6 TBL finely chopped fresh herbs (we used sage, oregano, thyme, rosemary, savory and tarragon)
3-4 cloves garlic, smashed and minced
Unrefined sea salt and freshly ground pepper
1  12-14lb. pasture-raised turkey
1 organic apple, washed and halved
1 organic onion, peeled and quartered
1 organic lemon, washed and halved
3-4 springs fresh rosemary
Directions:
Preheat oven to 325 F.
In a medium glass bowl, cream butter with herbs, garlic, salt and pepper to taste, mix well and set aside.
Pat your turkey dry with paper towels. Make sure to remove any giblets from inside the cavity, saving these for gravy or turkey stock.
Using your hand or a butter knife, carefully loosen the skin from the breast meat, leaving it attached but creating a pocket between the skin and meat. Be careful not to tear the skin. Here is a video that shows how this is done (just ignore the vegetable oil portion of the video!)
Once you have created a pocket between the breast meat and skin, fill it with all but about 3 TBL of your herbed butter mixture, working it over the entire breast under the skin.  (again, refer to the video above for a visual)
Wash your hands and then season the outside of the turkey with salt and pepper. Rub the remaining herbed butter mixture over the outside of the turkey, covering the breast, legs and underside of the bird.
Place the apple, onion, lemon pieces and rosemary sprigs inside the cavity of the turkey.
In a large (preferably not non-stick!*) roasting pan, fitted with a rack, place turkey, breast side up, on rack.
Tuck wings back under the turkey, and tie feet together with butcher's twine, crossed.
Optionally: You can cook the turkey breast side DOWN until you remove the foil (below) at about 45 minutes from the end of cooking, when you will flip it breast side up. I actually almost always cook it this way, but it can be a little tricky to flip, and I have had a turkey come apart and I almost dropped it one year,  so I advise doing this only if you want to tackle it. 🙂 It does keep the turkey very moist!
Cover tightly with foil and place in preheated oven and roast at 325 F for about 15 minutes per pound of turkey. (Or until juices run clear and internal temperature is measured at 165 F)
A 12-14 lb turkey should take around 3 1/2- 4 hours to cook. To promote browning, remove foil during the last 45 minutes or so of cooking.
Remove turkey from oven. Remove apple, onion, lemon and rosemary from inside cavity and discard. Do not eat these.
Move turkey carefully to a platter and let rest for about 15 minutes. Reserve juices, and using a fat separator  or skimming off the majority of fat, for gravy or reduction sauce, recipe follows.

Herbed Reduction Sauce for Turkey
by Amy Love, Real Food Whole Health
Ingredients:
Juices from one roasted turkey plus homemade or organic boxed broth to equal about 2 cups
Juice from two organic lemons
1/4 cup white wine, optional
About 3 TBL finely chopped fresh herbs (we used rosemary, thyme, sage, savory, oregano and tarragon)
Freshly ground black pepper to taste (unrefined sea salt optional, rarely needed)
2 garlic cloves, peeled, smashed and minced
1 TBL organic, grassfed butter
In medium saute pan over high heat, bring turkey drippings/stock to a boil. When reduced by about half, add lemon juice and white wine if using.
Sprinkle in herbs and couple of cracks of black pepper. Add garlic.
Taste and adjust salt, but be careful here, salt has concentrated during the reduction and you will probably not need to add any. I rarely do.
Swirl in butter and allow it to reach desired consistency.
Serve over your gorgeous roasted turkey and enjoy!
Notes:
*If you have a non-stick coated roasting pan, you can cover it with parchment paper to minimize contact with your food and the toxic non-stick surface.